Per Holsteen Larsen from Larsen & Eriksen watches contacted me last October about checking out some upcoming colorways they were readying for the fall/winter season. After checking out their website (which is excellent) I decided to go with the Absalon 41mm in a cool brushed copper color. Per ended up sending me the Absalon 41 in copper along with a matching copper bracelet and one of their new leather watch rolls.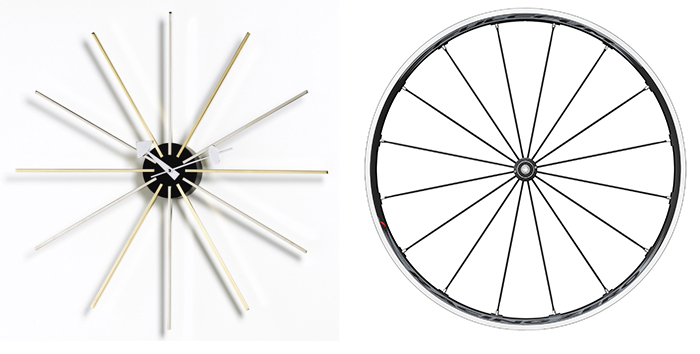 During our email dialog I mentioned that the Absalon dial reminded me of the George Nelson Designed, Herman Miller clock of the 50's, especially the STAR clock with is straight lines for hour markers. Per informed me that the dial design was inspired by the cycling-culture in Copenhagen as well as mid-modern design and architecture. The Larsen & Eriksen Copenhagen based studio defiantly has the classic modern European look to their watches and I was excited to see how they stood up to daily wear.
The Specifications
Case Size: 41mm x 7.1mm thick
Case Material: 16L Stainless Steel Case in Brushed Copper
Dial: Polished White
Glass: Mineral Crystal Glass
Strap: 20mm Genuine Calf Black Leather & Matching Stainless in Copper
Movement: Swiss Ronda FE762 Quartz
First Impressions
The Absalon, extra band and watch roll arrived around the end of January in matching black boxes in black sleeves with the Larsen & Eriksen brand embossed on them. As a trained Industrial Designer, the simple and effective presentation really appealed to me as did the watch itself. I appricated that the watch was not on the strap, this promotes the idea of interchangeable bands. All the straps from Larsen & Eriksen have the spring bars in the strap which makes them very easy to take on and off. I also liked the little embossed Penny-Farthing (or High Wheeled) bike on the inside of the box, a cute nod to the bicycling culture in Copenhagen.

My immediate impression was the dial; this watch is all dial and the polished white surface with the fine line hour markers really stands out. It comes off much larger than its 41mm size, mostly due the fact there is very little bezel on the watch, a couple of millimeters of copper colored steel around the dial is all there is. The next aspect of the watch that stood out to me was of course the copper case. Since it is not copper but I'm assuming a PVD plating it will not corrode or tarnish as a genuine copper cased watch would. My other brass and bronze watches are in various states of tarnish and for a big old dive watch that's cool, but a svelte dress watch that was tarnished, I think would just look dirty.
As with all new arrivals to my collection, the newbie gets an upfront slot in my daily wear watch box, but the Absalon got a front row slot in my dress watch collection box. I have been going through something of renaissance with my dress watches and the Absalon is a perfect addition. It is a great everyday watch so long as you're not doing something extreme. It is very easy to read, looks great (especially in copper) and is super comfortable to wear. It would work for me in 80% of daily life, I would not wear it for any sports or labor-intensive work, and definitely not for anything involving a lot of water as it is only 3ATM rated.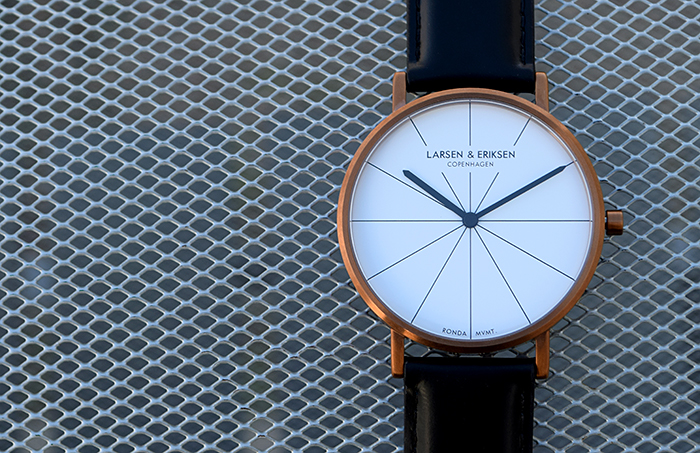 The Absalon is cueing up to be my go-to business watch. I travel to Virginia 2-4 times a year for business and this watch has somehow endeared itself to me as my new business companion. Its only been a few days that I have worn it but I'm already thinking of my next journey to Virginia and what straps I should take for the Absalon. I'm going to have to make room in the watch roll for a few extra straps, (See watch roll below.) It's the combination of easily readable dial, super thin profile (7.1mm) with light weight that would make this a great watch to wear all day under your shirt cuff. My other go-to dress watch is my Christopher Ward C5 Malvern MKII in steel with gold markers, but at 10.8mm high it feels down right large under the cuff compared to the Absalon. Also, at $165.00 on the Larsen & Eriksen website it's a great value that is perfect for business casual any day of the week, especially in the unique and cool copper color.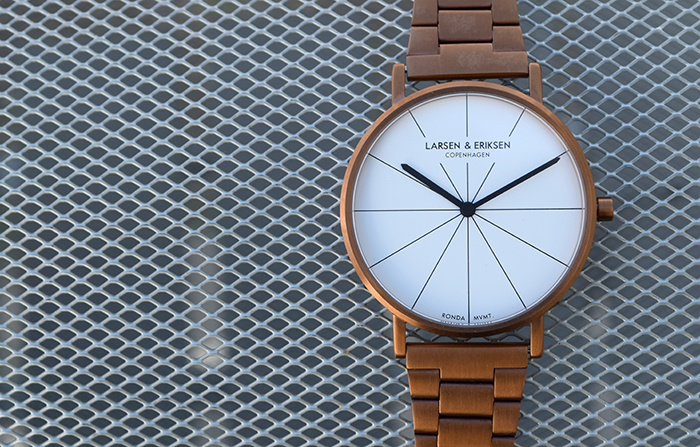 The Straps
The Absalon came with the Black Calf Leather strap which is a very high-quality padded leather strap. It was very stiff being brand new, and will take several weeks to fully break in, so I can't speak to its ultimate wear ability or comfort. The other band was a matching metal band that at first seemed very thin, but after wearing it for a few days I found it to be the perfect companion to the copper Absalon. A thicker metal band would over power the thin and comfortable nature of the watch, they worked well together. I also tried the Absalon on a gray 20mm NATO with brass hardware and it looked and wore great. The NATO gave the watch a nice sporty feel and was still super comfortable.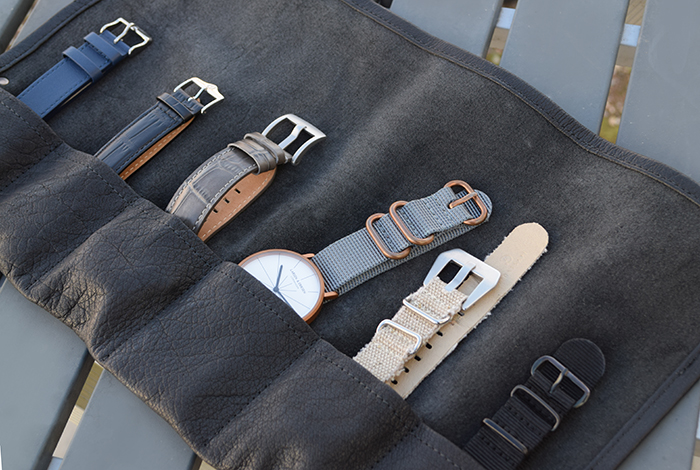 The Watch Roll
The watch roll that Per threw in with the watch was a fantastic surprise (thanks Per!) I have several travel watch tubes and even a three watch hard case, but they are all big and heavy. The watch roll is so much lighter and convenient than my other travel cases. The leather is of high quality, thick but pliant, and is suede on the inside but polished on the outside. For my business travels this is the watch case that I didn't know I needed. My only grumble about this watch roll is it does not fit larger sized watches. Anything past about a 43mm in width and 10mm in height starts to get tight. This is not a problem for my business travels as I tend to travel with dressier and slimmer watches, but for holidays where I would bring some of my larger watches it might not work so well.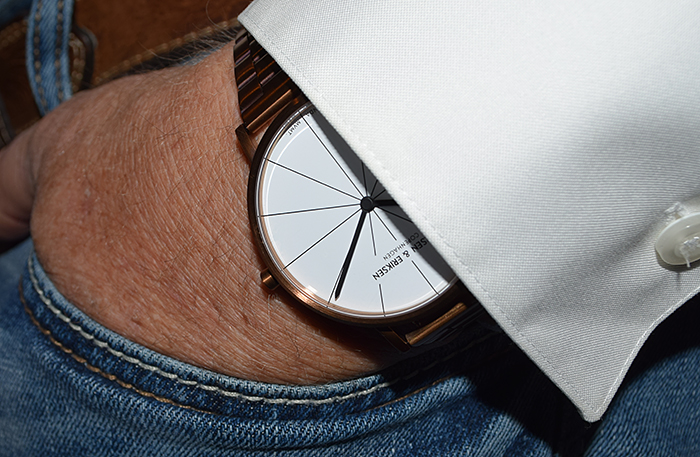 Over all the 41mm Absalon in copper from Larsen & Eriksen is a welcome addition to my collection. Of course, I can always get picky. The Ronda 762 Movement is ultra-efficient with a 10-year battery life, and metal structure, but it does not have the same character as an automatic or manual wind. I think the next Absalon with a manual wind movement would be an awesome watch. Also increasing the Absalons water proof rating with a screw down crown and case back would make it a truly do it all watch. But of course, those extra little changes would add to the price of the watch and one of the charms of the Absalon is its excellent value. The Absalon comes in 37 and 41 millimeter sizes and in multiple colors and dial options. If you do go with the copper color, I highly recommend picking up the copper metal bracelet, it's a unique choice that works great with the watch.
Keep on a Watching!
Edward