While staying in Lake Isabella California we decided to take a weekend trip to Death Valley in California's Mojave Desert. While researching the Valley I realized that we would be able to go from +5,000 feet to -282 below sea level, the lowest elevation in north America all in the same day. This seemed like an ideal time to test my Citizen Promaster Altichron's altimeter function especially on the new brown leather pilot's strap I had just put on it.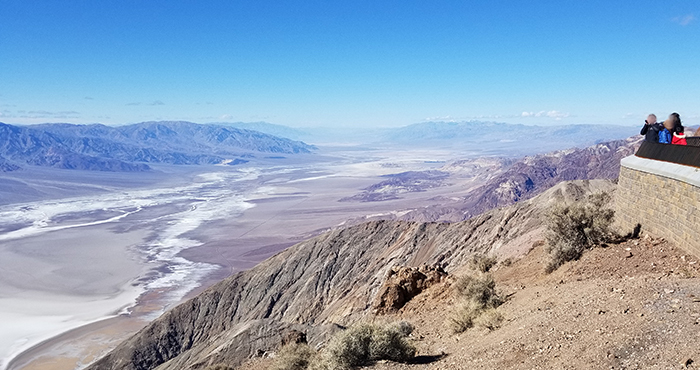 I have always loved the idea of instrument watches. From temperature sensors, to compasses, to alarms the instrument watch holds a special place in a watch collection for their ability to do more than simply tell time. The original complication I'm sure was the date display, adding a simple window with the day of the month. As watch making progressed the complications became much more complicated moving from day and date to chronographs, tachometers, calendars, moonphases, GMT's and now they even include digital sensors. Even though I like the idea of a watch with a set of complications that supply important information, more times than not they fall short on accuracy, readability, usability and practicality.
I have a bunch of watches with complications of all types, but I have to say the Citizen Promaster Line is one of my favorites. My other watches that have "sensors" include Casio's G-Shocks and ProTrek lines, but their accuracy and ease of use have always been a bit problematic. Something that I like about the Promaster line is that each watch is designed around one special feature.
Of all the sensors you can put into a watch the one that always bugs me the most is the temperature sensor. As the watch sits on your wrist and is affected by your body temperature, it cannot be accurate! Of course, taking the watch off and letting it acclimate to the ambient temperature will get you a more accurate reading, but I never liked the idea of having to remove a watch to get it to work correctly. The other sensor on a watch that I have had a lot of issues with are digital compasses. My most accurate compass watch is my ProTrek PRW-3000T, which is very close to finding magnetic north about 60% of the time. The compass on the Altichron was next to worthless, even after calibrating it was getting magnetic north about 20% of the time I used it. Even the Altichron's instruction manual indicated that "Compass direction result may become significantly inaccurate near things which generate strong magnetic fields." Including, power lines, inside a car, trains, airports, cellphones, electric equipment etc. That is pretty much everything in our modern world.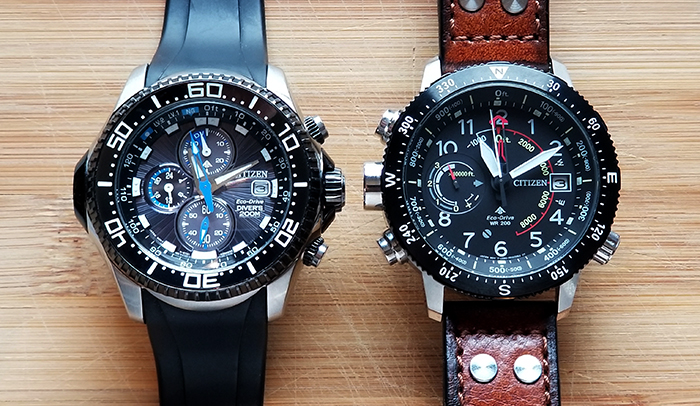 My other Promaster is an Eco-Drive Diver's BJ2110-01E, that has a depth gauge and a chronometer function. I prefer to use this watch when I dive to time my decompression stop at 3 meters. Its super easy to watch your time and your depth simultaneously during the decomp stop. Knowing how well the Eco-Drive Diver worked I had high hopes for the Altichron's altimeter function.
Our first stop in Death Valley after lunch at The Inn was Dante's View. The best part was that I knew the exact altitude I was at, an easy first test for the Altichron. Dante's View is at 5,476 feet on the north side of Coffin Peak, the Altichron showed 5,250 feet every time I tried the altimeter function. I was impressed that it was only off 226 feet, but a little bummed that it was not exact. I ended up cutting the Alitchron some slack considering it was calculating the altitude by measuring atmospheric pressure and then applying the standard atmosphere model used for altitude measurement of civil aircraft. Besides it was only one test, the hard one was next, Badwater Basin, the lowest point in North America.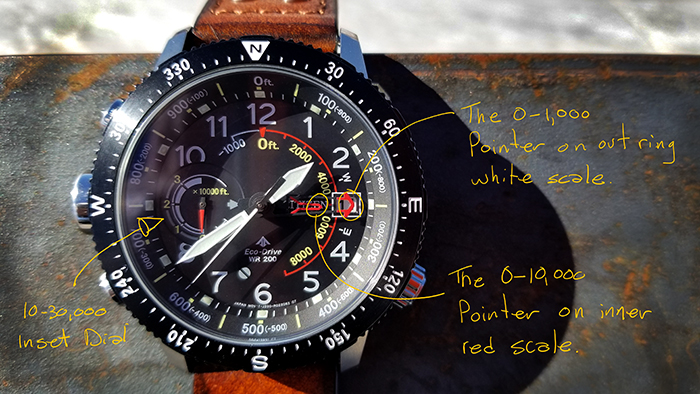 After a 40 to 45-minute drive down to Badwater, which sits 282 feet below sea level, it was time to see if the Altichon knew what was up. Consistently the reading came in at exactly -410 below sea level, a reading that was over (or is that under) by -118 feet. I was still a little bummed but becoming more impressed at the accuracy was getting better and besides it was a trick test, with Badwater being the 8th lowest place on the planet.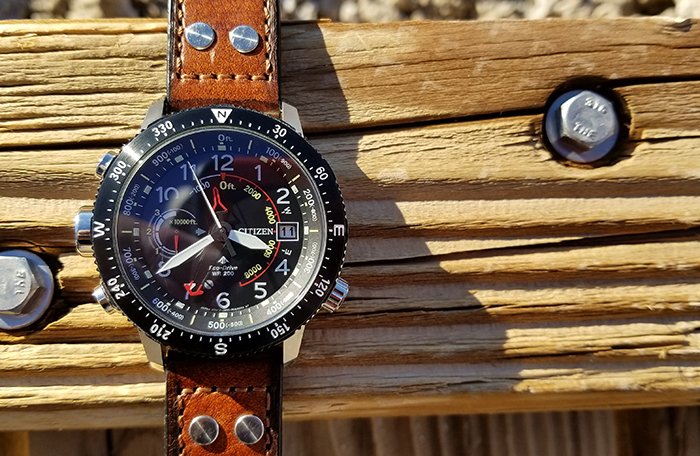 As we were exiting the west entrance to the park, we went over Towne Pass with a posted altitude of 4,956 feet and I thought I should give the Alitchron another go to see how it stacked up next to a posted road sign. I was also interested to see how the Altichron did in a wicked head wind, with he wind at the pass blowing steadily at well past 40 mph. Repeatedly the watch posted 4,925 feet, just a difference of 31 feet. I was officially impressed. Would I trust this watch if my life depended on it, no way, but as a recreational hiker and lover of mountains, it was more than capable of giving me an idea of what my altitude is in any given situation.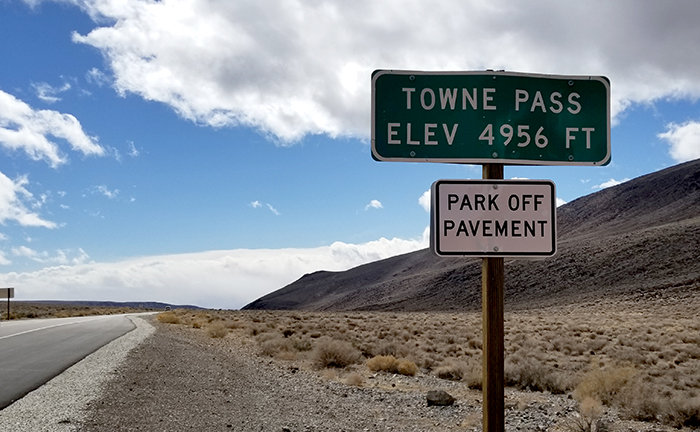 Over all I'm impressed with the Citizen Alitchon. It makes an excellent outdoors/expedition watch. Being powered by light makes it pretty much maintenance free. The quartz movement guarantees accurate time keeping. The watch is on the larger size at 46mm wide but it's not cumbersome and feels very at home in the wilds. The only downsides for me are the poor showings for the digital compass and the rubber strap that it came with. Even though the compass is not the best, the bi-directional rotating bezel with direction indicators every 5-degrees makes it more useful. Speaking of straps, I absolutely love this watch on the brown pilot's band. Every now and then I find a watch/strap combo that just work, and they end up staying together for the rest of the time I own them, this is one of those matches.
At $401.62 to $412.48 on Amazon.com the Altichron is a pretty good deal. Of my instrument/sensor adventure watches this one sits near the top of my list, well at least when there is a mountain that needs climbing.
Keep on a Watching!
Edward
Citizen Altichron on Leather Pilot Strap
Summary
Amazingly the Alticron was fairly accurate in indicating altitude, keeps excellent time and is fairly easy to read. It also features a 666ft. water-resistance rating so it can be totally submerged without ill affect. Its big, but not unwieldly mostly because it has a relatively low profile of about 14mm. Looks better on a leather strap than the rubber it came on, so be prepared to change the band. I recently took this watch up to the saddle of Squirrel Valley in Mountain Mesa CA, and it indicated that we had climbed a total of 1000 feet. I knew it was going to be a tough climb, but knowing that it was exactly 1000 feet up, made my sore legs the next day so much more justified. The Altichon BN5058-07E feels at home while out on the trail and is a worthy companion for your next vertically challenged adventure