Unlike the more prominent watch brands found in Switzerland and Germany, Swedish watch companies are not internationally famed (yet!). They are for the most part small companies with only a few models, produced in low numbers.
We have picked out a few to not from the 20-25 that are currently in business. I will not try to rank them individually, as that would be nearly impossible. But what I can say, is that Sjöö Sandström makes very beautiful and popular watches, and that they are one of the most prestigious Swedish watch brands. So if I had to recommend a specific brand, Sjöö Sandström would be my choice.
Well, enough talk. Here's the list of the best Swedish watch brands (in no particular order) that at least have some part of the manufacturing in Sweden and are not just buying a finished product from China, Switzerland, or elsewhere.
Sjöö Sandström
Sjöö Sandström was founded in 1986 by Mikael Sandström and Christer Sjöö. Being both engineers and watch enthusiasts, the two had a very good idea how a prestigious high-end timepiece should be designed and constructed. Their work have resulted in a small-scale operation, focused on superb craftsmanship and traditional design.
From the manufacturing facilities in Stockholm, the first model (the Automatic S1) was introduced in 1993. Subsequent models have since established Sjöö Sandström as Sweden's top watch brand.
Although the movements, along with all other parts, are imported from Switzerland, Sjöö Sandström is still very much Swedish. Design, construction, marketing and quality control are all done in Stockholm.
When the Swedish Air Force needed a new chronograph for their pilots in 2011, they chose a Swedish watch, the Sjöö Sandström UTC Skydiver. It's very beautiful, wouldn't you agree?
Epoch Stockholm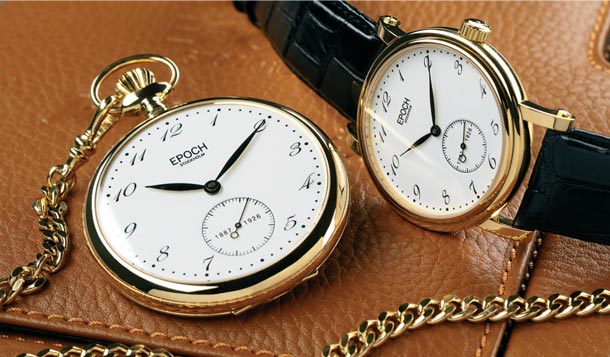 In 2001, the founders of Sjöö Sandström – Mikael Sandström and Christer Sjöö – sold their company to start a new venture; the founding of watch making company Epoch Stockholm.
As Sjöö Sandström watches had price tags in the $3000 to $8000 range, they now decided to focus their efforts on making quality timepieces at a lower price. Epoch watches sell for around $600-$1300. Very cheap, considering the elegant design, the careful selection of Swiss movements, and the solid craftsmanship.
From a small workshop in Tullinge, Stockholm, Epoch manufactures not only men's and women's wristwatches, but also a line of classical pocket watches. You can see one in the picture below.
TRIWA
TRIWA (acronym for TRanforming the Industry of WAtches) is another independent Stockholm-based brand. Operations started as late as 2007, and they are making both watches and sunglasses.
TRIWA has a strong focus on making playful and creative chronographs. Individuality is a cornerstone in their design philosophy.
Here's the Blue Steel Nevil. Click the image for more information!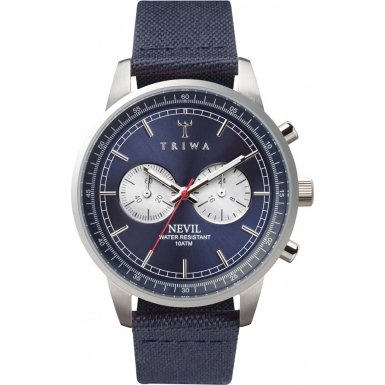 Daniel Wellington
A watch by Daniel Wellington has a very specific design. Clean, thin, and elegant. Timeless! Held in place by an old-fashioned NATO wristband (made from nylon). And that's basically it! Yes, they do also offer leather wristbands, but nothing more.
A funny story about the name: Founder Filip Tysander got the inspiration to start a watch brand after meeting an old-school English gentleman by the name Daniel Wellington. Filip liked Mr Wellingtons relaxed and gentlemanlike style, and especially his NATO wristband! An idea was born…
Here's the popular Daniel Wellington Dapper St Mawes watch with a leather wristband: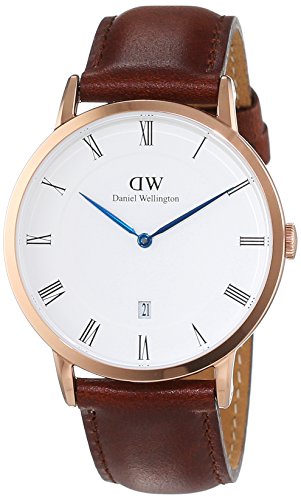 Halda Watch Co
The brand Halda has a long and glorious history. Halda Fickursfabrik AB was founded already in 1887 by Henning Hammarlund in Svängsta, in Blekinge county. Mr Hammarlund had received extensive and thorough training in Switzerland, and had returned to manufacture pocket watches.
The first pocket watches was presented in 1889, and they were an instant success, receiving two medals from the Chicago World's Fair in 1893. To make a long story short, Halda was liquidated in 1920 after the demand for pocket watches had plummeted during World War I (and the introduction of  wristwatches).
Here's the history of Halda in more detail:

But wait a minute! Why are we talking about a company that went bust for almost 100 years ago? Because the brand Halda has now been resurrected under the name Halda Watch Co! And by none other than Mikael Sandström (co-founder of both Sjöö Sandström and Epoch Stockholm).
Combining traditional watchmaking with modern technology, Halda Watch Co now makes two high-performance timepieces; Halda Race Pilot and Halda Space Discovery. Both models are manufactured with extreme precision and perfection to meet the extreme demands found in space and on the race track.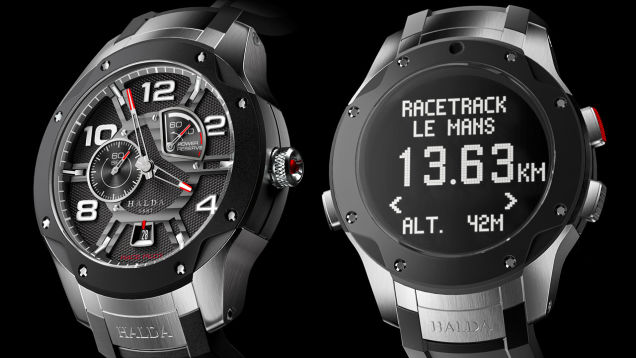 Miró Watches
A clean, simplistic and elegant design, topped off with a leather strap; that's the distinctive feature of a timepiece from Miró Watches. It's no surprise they only make chronographs, as a digital display would ruin their design work.
Founded in late 2012, Miró Watches is one of the newest players in the watchmaking world. Now what about the name? Does it have something to do with the famous Spanish painter Joan Miró? Yes, absolutely! His style has been a great inspiration to the founders of this brand.
Some typical Miró timepieces: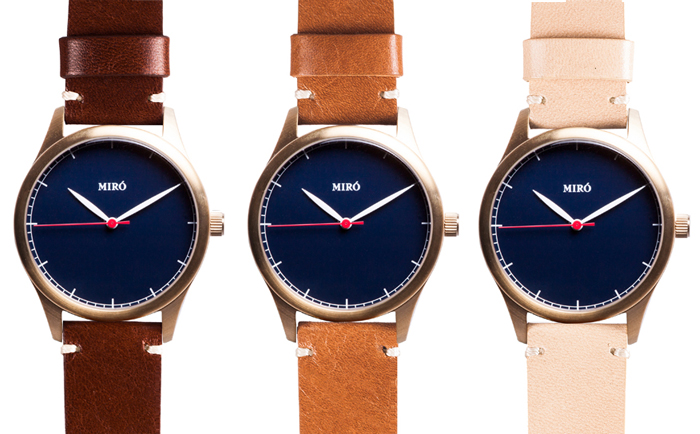 TID Watches
TID Watches is another very new brand from Stockholm (founded in 2012). After choosing the Swedish word for Time (Tid) as the name for their company, the four founders – Ola Bernestål, Petrus Palmér, Jonas Pettersson, and John Löfgren – decided to aim for the stars. They wanted to make unique and iconic timepieces that would stand the test of time. Not bad, huh?
Well, take a look at their creations and decide for yourself if they have succeeded in their high ambitions. I think they have done very well.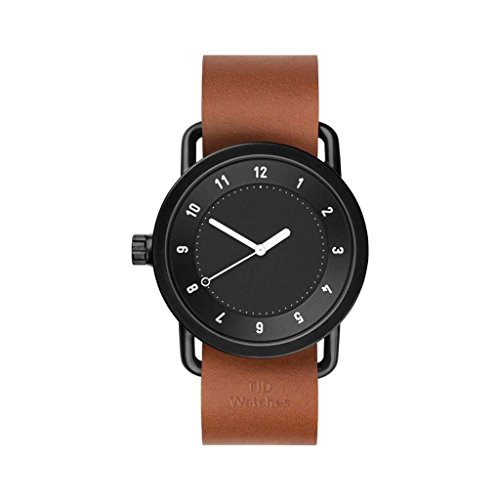 Another clean, simplistic and elegant Swedish watch company is VERK, which is the Swedish term for the end result of one's work. This minimalist brand features Swedish design with German manufacturing. They currently have two lines the ETT (or one in Swedish) is there best seller with a simple elegant dial and the TVÅ (or two in Swedish) there newest watch which is a one handed 24 hour dial. Each VERK features a 5 year warranty and free shipping to the US.
VERK is hoping to launch a new watch every year. Hopefully they can pull it off. The TVÅ and ETT are wonderfully simple, elegant watches.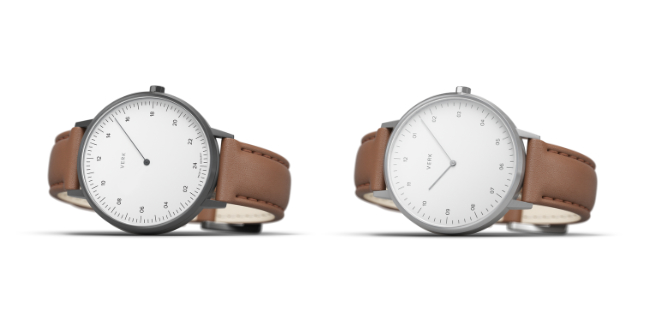 More Brands
Other Swedish watch brands worth mentioning are Pansar Sweden, stylish Bravur, back-to-nature watchmaker GoS (Gustafsson & Sjögren), and the newly started MAEN.
For more interesting brands, please take a look at our list of Scandinavian watch brands.