A 1000 years ago, the Vikings used the sun to keep track of time. Today, their Scandinavian descendants use wristwatches to keep their pillaging and mead-drinking appointments.
Wristwatches that have been designed and manufactured within Viking territory (FYI, I use the looser definition of which countries belong to Scandinavia). I have grouped the brands by country in an attempt to get some order.
DENMARK
The best Scandinavian watches have one thing in common. High quality and an intriguing design. Denmark is no exception to this, and the good news is that there are at least 25 Danish watch brands to choose from. Most of them have the same type of minimalist Scandinavian watch design, so instead of including all of them, I picked out five unique and interesting brands that really stand out from the crowd.
Let's begin…
REC Watches
REC Watches is truly an interesting (and different) watch brand. The watches are made from salvaged cars! And not just any old cars, but three classic models in particular; Ford Mustang, Porsche 911, and the iconic Mini Cooper.
The two founders of REC – Jonathan Kamstrup and Christian Mygh – found a unique way to combine their love for cars and their passion for watches when they started their business in 2014. They decided to name their brand REC – short for Recover, Recycle, Reclaim.
They currently manufacture four models: The 901, The P51, The Mark I, and The Cooper. Prices range from $345 to $1695, depending on the model.
Nexo Denmark
Affordable high-quality timepieces with a stylish Danish design. That's what Nexo Denmark's founding couple – Marie and Martin Heidemand – are shooting for. Established in 2013 in the small island of Bornholm, Nexo Denmark has been successful enough to expand their product lineup.
Today there are a whole range of models for under $100 to choose from. The colorful NEW Black S – Green is one of my personal favorites: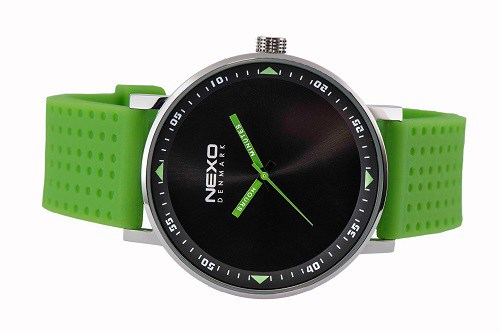 VEJRHØJ
Vejrhøj makes something as unique as wooden watches!
Together with veteran designer Bo Bonfils, the young designer and entrepreneur Janus Aarup launched his first collection in 2015 through a Kickstarter campaign. In 2017, two collections of wooden timepieces are on the market; the $375 Vejrhøj Nautic, and the cheaper Vejrhøj Elements. Recently Janus send Whichwatch.org a Nautic 65° to review and we loved the watch, check out our review, here. Also to end 2018 Vejrhøj is launching a 34mm womans line that is very exciting. Check out the preorder page, here.
Take a look at the Nautic! A very cool piece of art.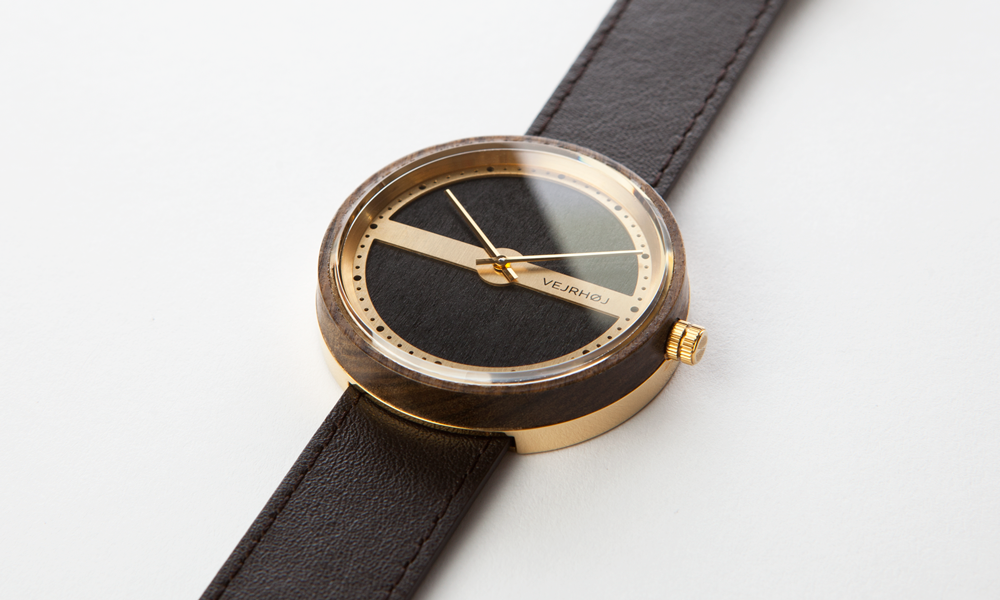 Bulbul Watches
Jacob Juul founded Bulbul Watches in 2013. The first model was the assymetric Bulbul Pebble. It has a very clean and minimalist design, and the shape of the watch is pretty cool: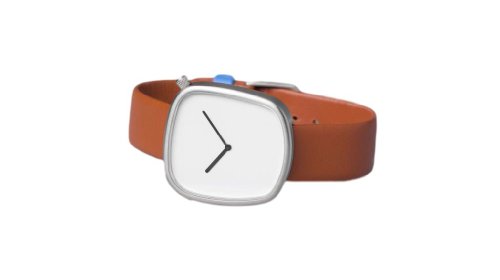 The Pebble was a success, and soon three more models were introduced, all with a similarly modern design. The rectangular Oblong, and the two round models Facette and Ore. Prices range from $300 to $350.
Skagen
Founded in 1989 by married couple Charlotte and Henrik Jorst, Skagen has gained popularity worldwide, currently selling in over 80 countries. They not only make wristwatches, but also jewelry and accessories. A typical Skagen timepiece is affordable, and it has a timeless clean design.
Sold for just over $100, the Skagen Signatur is a steal: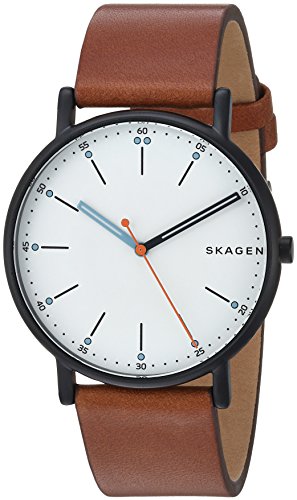 NORWAY
Norway doesn't have a long history of watchmaking. It's only in the past few years that a few small brands have popped up. The two Norwegian watch brands I like the most are Bruvik and new startup Von Doren.
Bruvik Time
Since being a teenage boy, Rune Bruvik had dreamt about designing his very own wristwatch. In 2009, when founding Bruvik Time, he fulfilled his childhood dream. Bruvik Time makes masculine high-quality timepieces that are just as perfect for arctic adventures as for boring office meetings.
Of the four different collections to choose from, I especially like the Bruvik Svalbard Green: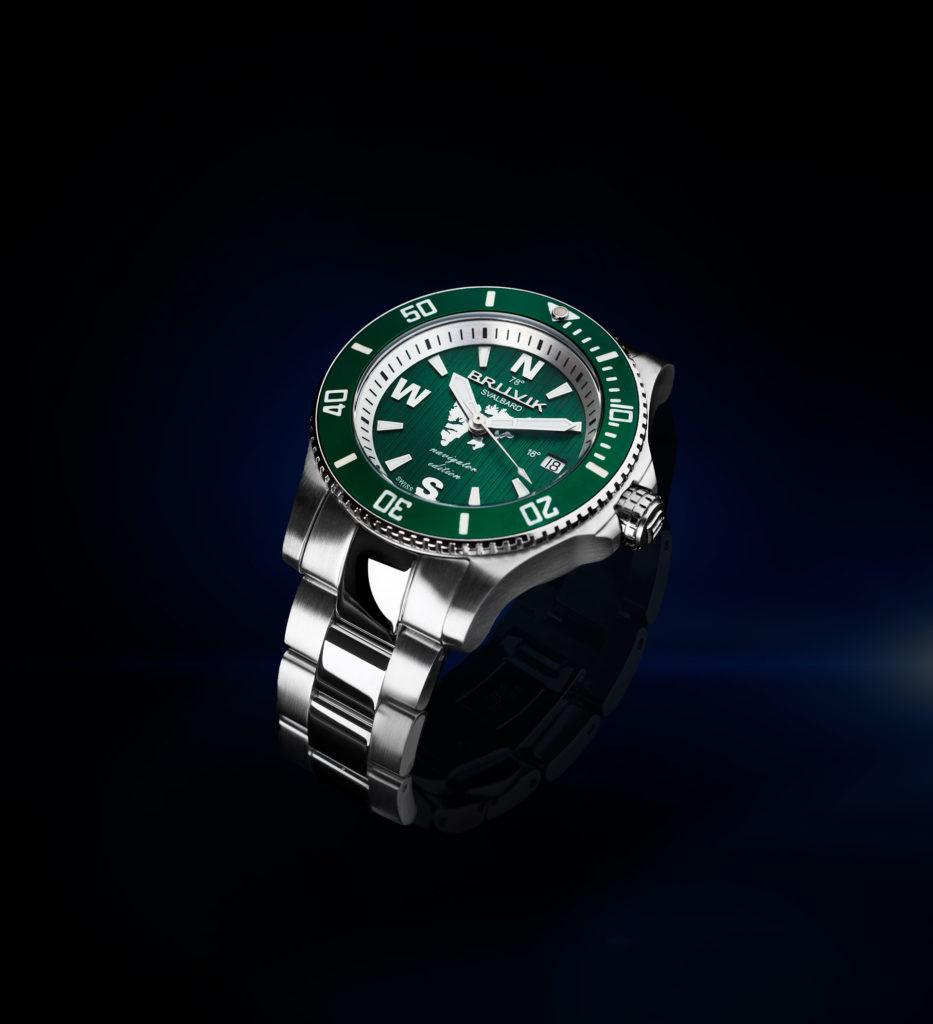 Von Doren
Entrepreneur and film maker Øyvind Von Doren Asbjørnsen launched Von Doren through a Kickstarter campaign earlier this year. With Smiss movements, double-domed sapphire crystals, and clean and elegant designs, Von Doren has a clear spot in this top-15 list.
Their latest project – the Jotunheim Lady wristwatch – will be launched in just a few days on Kickstarter. It's available in three different colors: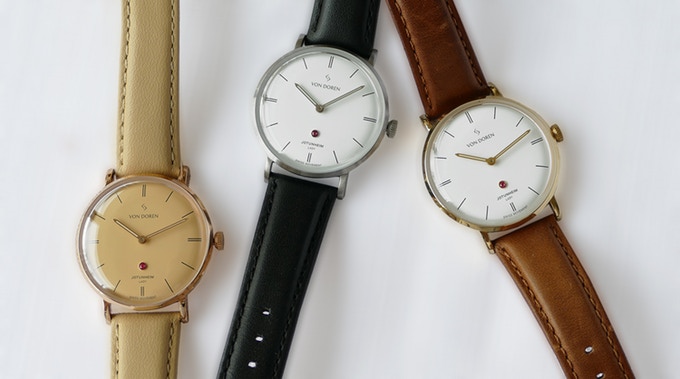 SWEDEN
Similar to the situation in Denmark, Sweden has a decent number of interesting watch brands. Many of them are fairly new start-ups.
GoS Watches
GoS Watches – Gustafsson & Sjögren – was founded by Johan Gustafsson and Patrik Sjögren, two craftsmen with a passion for ancient Scandinavian craft tradition. One a master watchmaker, the other a master bladesmith. Every GoS timepiece is handcrafted of hand forged Damascus steel (used for making swords). The straps are made of moose leather.
The artistic and beautiful designs are based on Scandinavian nature, and on Sweden's Viking history.
This is the lovely GoS Sarek Ladies watch: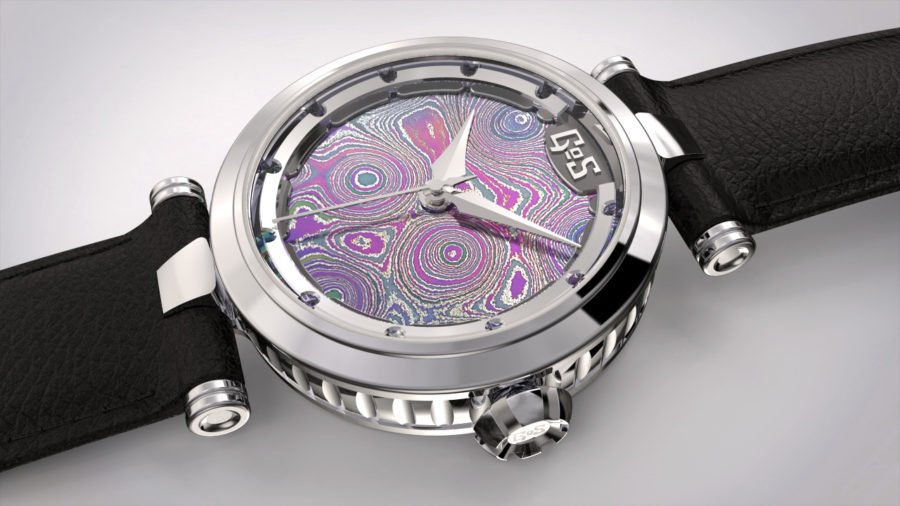 Kronaby
A brand we haven't covered before is Kronaby, a Swedish start-up that makes "connected watches".
Now, what does that mean? Well, it's sort of a hybrid watch or a semi-smartwatch. It looks like a beautiful classic wristwatch, but it connects to your smartphone so that you can do all sorts of neat things from your watch. You can reject calls, and control your smartphone's notifications, camera, and music, directly from your wrist.
A Kronaby watch also has automatic time zone, a silent vibrating alarm, a geotag button, and it allows you to get inactivity reminders, and setting and monitoring step goals.
The company behind Kronaby is called Anima AB, and was founded by four former Sony employees; Fredrik Rosén, Pål Borge, Thomas Sandelius, and Sarandis Kalogeropulos.
There are currently four models in the product lineup; Apex, Carat, Nord, and Sekel.
This is the Apex with black dial and a beige leather strap: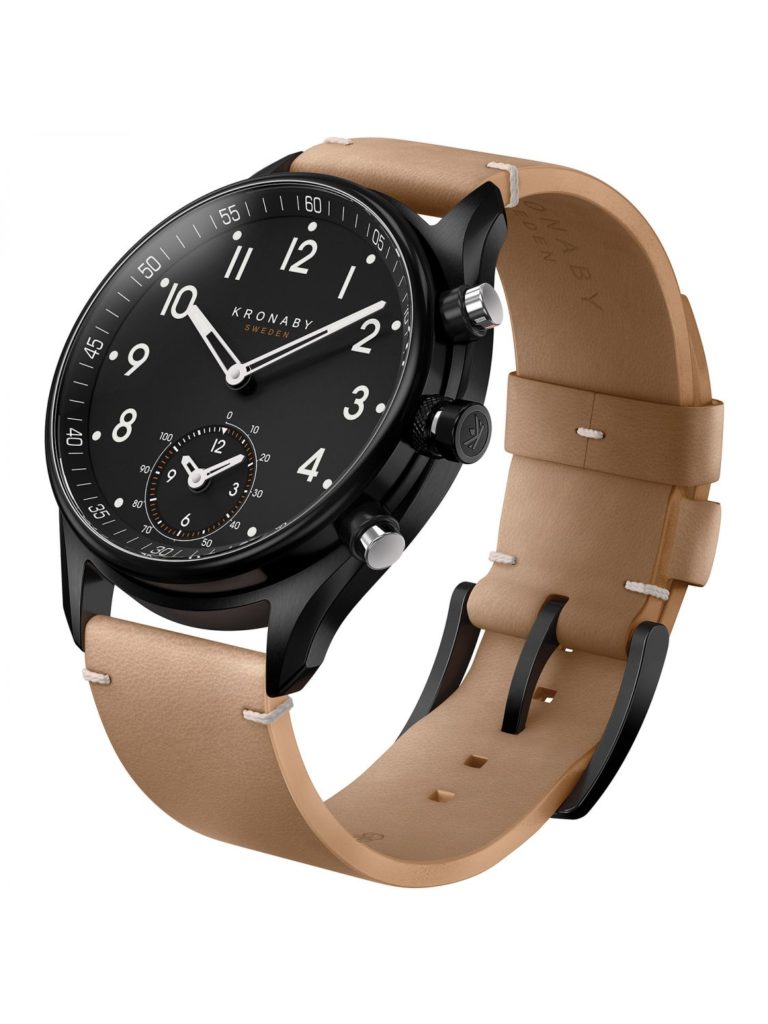 Daniel Wellington
In 2011, Filip Tysander hit the jackpot when he founded fast-growing watch brand Daniel Wellington.
The business has grown exponentially ever since, and today DW is one of the world's top-selling watch brands (only beaten by Swatch). Classic minimalist design at an affordable price. That's what you get when purchasing a timepiece from DW. To be honest, there's nothing really unique about a watch from DW; they are made in China, using Japanese movements. There are lots of other brands doing the exact same thing. But the extreme level of success after only six years on the market is what gives it a spot on our top-15 list.
Here's the very popular Daniel Wellington St. Mawes Women's watch: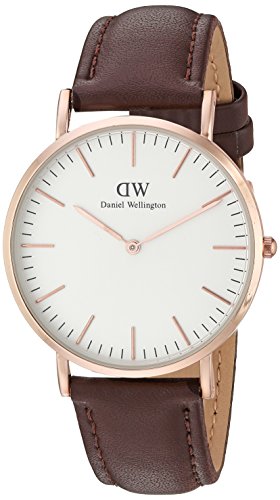 FINLAND
Finland houses a relatively small number of watch brands.
But don't let that fool you. Designs and quality is top-notch.
Suunto
In 1936, Tuomas Vohlonen invented a new way to mass produce more accurate liquid-filled compasses. That was the start of Suunto. Today, Suunto makes sports and GPS watches, compasses, and dive computers. It's become a world-renowned brand. In contrast to all other brands on this list (that make analog timepieces), Suunto makes advanced digital watches. Quality, though, is just as high.
The Suunto Ambit3 Peak (image below) includes GPS, altimeter, barometer, and a compass. A fantastic tactical watch!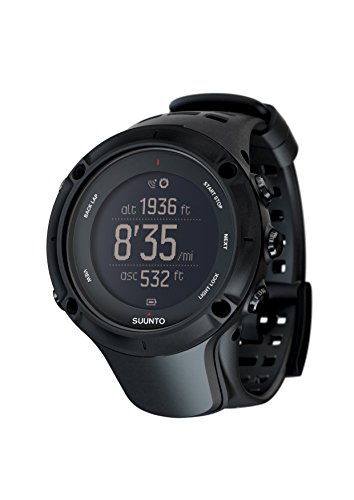 Sarpaneva
Stepan Sarpaneva trained and worked for various watch brands in Switzerland for ten years before launching his own company in Helsinki in 2003. Ten years of experience that really pays off in the looks and quality if you ask me. A unique handcrafted piece of art. That's what you get when you purchase a Sarpaneva timepiece.
Prices are very high.
I like the artistic designs a lot. For example, take a look at the Korona K3 Northern Stars: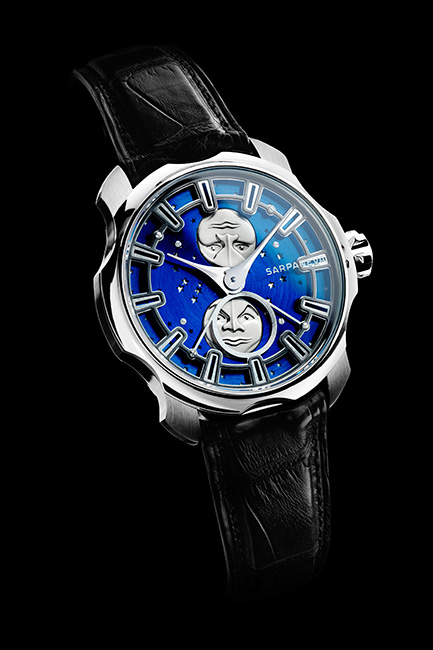 Rönkkö
Watchmaker Antti Rönkkö started his own company – Rönkkö Watches Oy – in 2012. Much like Sarpaneva, Rönkkö makes unique handcrafted watches of high quality and in limited editions. The designs differ however, with Rönkkö not using any bright colors like Sarpaneva does. A special thing about Rönkkö is that they make their own movements. Quite amazing for such a small brand.
Three models are currently available. This is the Steel Labyrinth: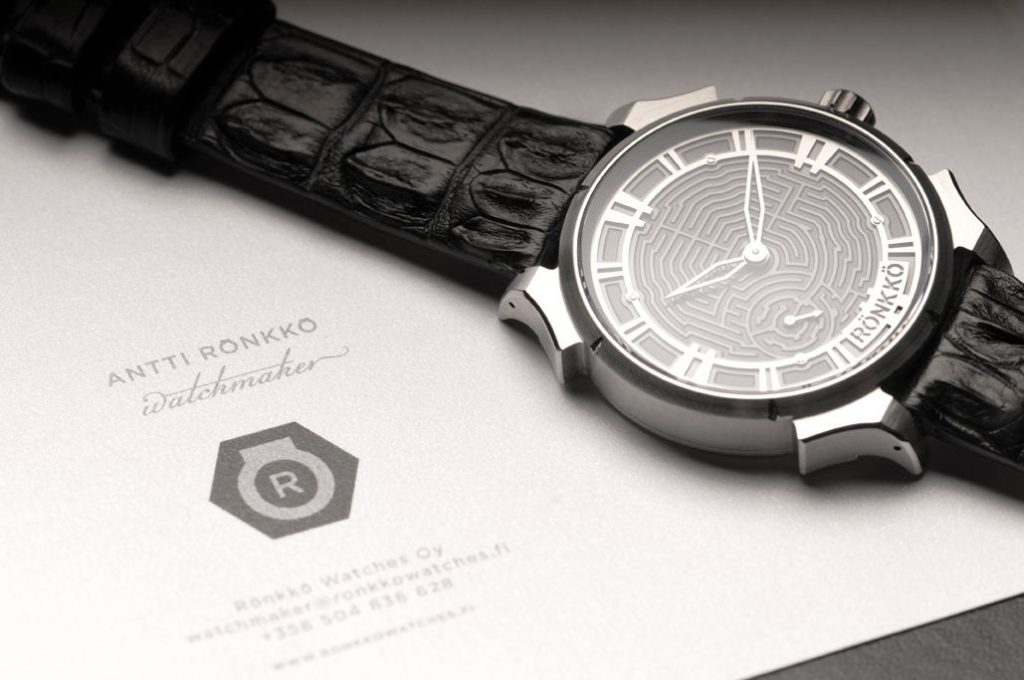 ICELAND
To complete this top list of Scandinavian watch brands we turn to the small volcanic island known as Iceland. The Icelandic watch scene hasn't been covered here at WhichWatch.org before, and the reason is simple; There are only three Icelandic watch brands! The three brands are Michelsen Watchmakers, JS Watch Company, and ArcTic Iceland. They are all based in the capital of Reykjavik.
Michelsen Watchmakers
With a history going back to 1907 when Danish watchmaker J. Frank Michelsen arrived in Iceland, Michelsen Watchmakers certainly has tradition and experience on its side.
Today, a fourth generation of Michelsens not only sell watches from other brands, but they also manufacture a collection of their own, consisting of five high-quality models.
They are only sold from their shop in Reykjavik, and prices are in $550 – $3500 range. This is the AE: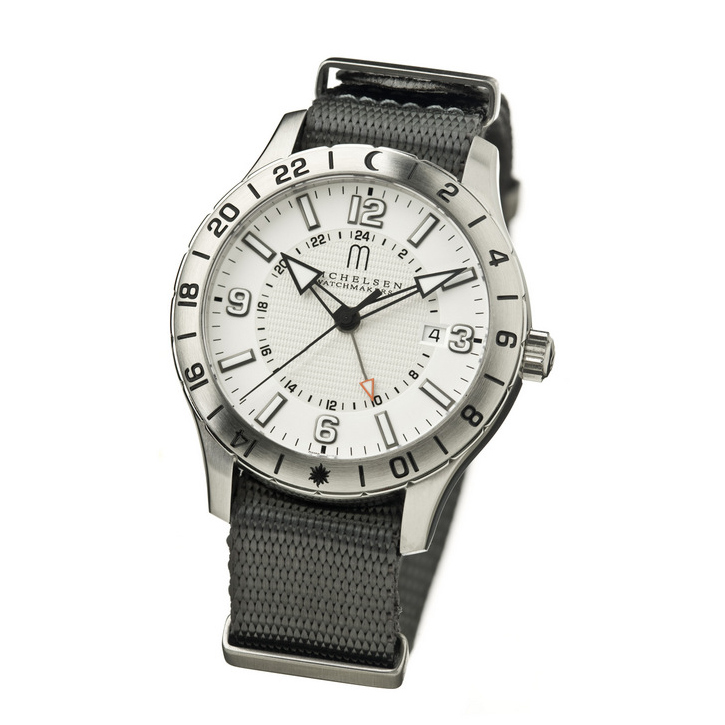 JS Watch Company
Four Icelandic watch enthusiasts – one being master watchmaker Gilbert O. Gudjonsson – founded JS Watch Company in 2005. Using only movements and components from Switzerland and Germany, JS Watch manufactures high-quality mechanical timepieces. Prices are usually between $2000 and $4000, with the exception of a few special editions.
Despite being located on a small island in the North Atlantic, a lot of celebrities seem to like what they are doing. Hall of Fame includes superstars like Tom Cruise, Quentin Tarantino and Ben Stiller.
Just look at the three models of the JS Watch Islandus 1919! Aren't they gorgeous?