Orbis Morgan is one of the first micro brand watch companies that I came across when I started collecting watches. I remember reading a review of the Nevon dive watch on Worn&Wound.com and thinking it was super cool and really affordable. It was shortly after reading that review that I pulled the trigger on a Orbis Morgan Branco in PVD black. It was the minimalist dial that really sold me on the Branco, along with the tactical nature of the watch. At the time I was going through a tactical/tool watch phase and the Branco represented the classier more elegant side of my tactical watches. Having spent the last 3-4 years with the Branco I really don't see or wear the watch as a tactical watch but more as a hybrid that crosses the line from sporty to dressy. On its best day it's a modern field watch regardless if the field is grassy or paved. On a side note the screw down crown on the Branco striped and the staff at Orbis Morgan was great getting it fixed, they definitely get an A+ for after sales service.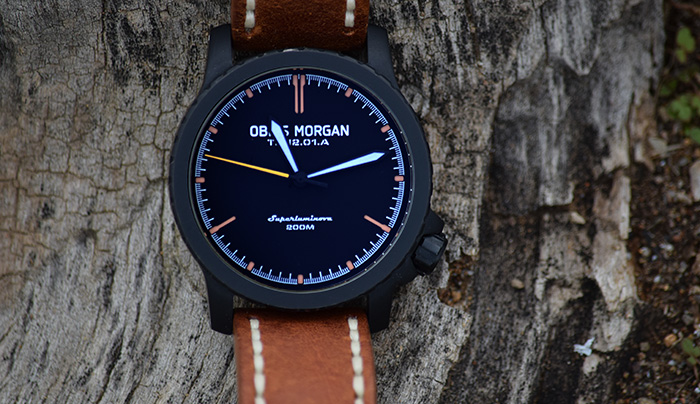 One of my biggest beefs with Orbis Morgan is the availability of their watches. I have been trying to buy another one of their watches for literally years! Of the 9 models they have produced I have only been able to buy 2, the other 7 models have sold out almost instantly. I even got up early in the morning to try and get one on the release day and had no luck. Recently however I did order an Orbis Morgan Nautilus in Bronze with a gray sunburst dial. I do not know if they have increased there run size or if the Nautilus is just not selling. But at $379.00 I had to jump on it while I could.
It's no mystery that I have a soft spot for brass/bronze watches. I currently have 6 which represents about 10% of my collection, and I'm always on the lookout for more. I figured the Nautilus would be a natural fit for my collection, boy was I wrong. When the Nautilus showed up it was like nothing I had seen before, the size is 41mm for the bezel but feels WAY smaller, almost dainty. The big bezel and crown are the dominant features along with the big minute hand. The bezel and dial width are very small on the Nautilus. For comparison check out the Nautilus versus my Armida A8. By my unscientific measurements the Nautilus' bezel is 40mm and the A8 is 43mm while the dials are 29mm and 32mm respectively. The dial is interesting as well with long thin triangular indices at 12, 6 and 9 that feel awkward with the square date window at 3 o'clock, and the stick markers for the other hour markers seem way too big for the space. The logo and text on the dial seem pushed way to far to the top and the bottom, all a bit crammed together, with the poor little hour hand just getting lost in the mess. All in all, the Nautilus is a mish mash of ideas that tries to stay true to the simple elegance of other Orbis Morgan time pieces, but it just doesn't pull it off.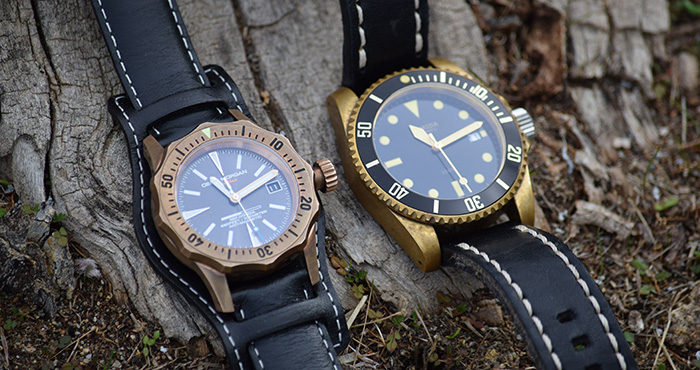 Now that I have the Nautilus, I figured I would make the best of it. The first thing I did was to order some new straps for it, the black leather and dark gray fabric straps really were not working for me. I figured the band would be a great way to make the Nautilus feel more substantial. So, I jumped on Amazon.com and CrownandBuckle.com and ordered some new 20mm bands, including a Black Leather Bund and a bunch of NATOs' with both silver, black and brass hardware. This made a huge improvement for me, the Nautilus felt sportier and had more wrist presence. I especially liked the gray NATO with brass hardware and the Mustard/Beige NATO with black hardware.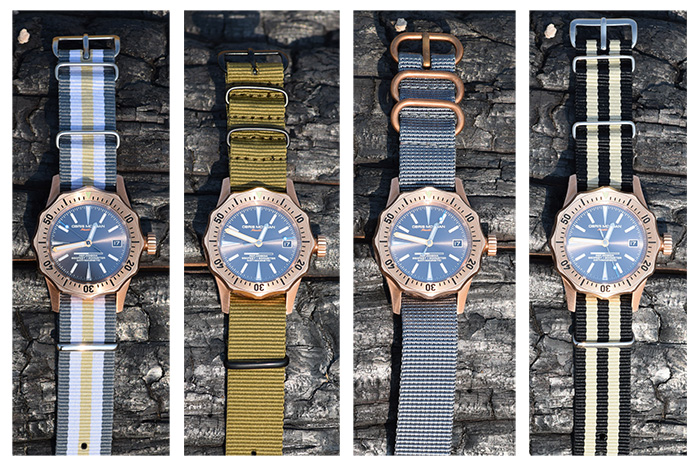 Now that the Nautilus was working a little better for me, I thought I would give it chance and brought it along with a selection of my smaller sized more dressy watches on our holiday travels that included a cruise through the Panama Canal (new post coming soon on this adventure).
I have been leaning towards my larger watches, those in the 45mm range for some time and I figured it was time to re-discover the smaller watches in my collection, especially after receiving the Nautilus and doing the VEJRHØJ review. The Nautilus presented itself well on the trip, it even endeared itself to me as a respectable swimming companion. The large minute hand and small hour hand which originally appeared on the 1967 Doxa Sub 300 (great article here on the Doxa) was great for keeping my son on schedule in the pool, as he would never get out if I didn't make him.
During our 36-day trip the Orbis Morgan Nautilus really started growing on me. Not because its faults were assuaged, but because of them. The Nautilus is quirky, different, even a little weird, it's the little brass watch that could. The Miyota 9015 movement is an excellent movement (especially at $379.00), the brass case is very well made even though it has a bit of a rose gold tint to it. The over-sized crown is super easy to use and has a great feel. I often found myself unscrewing it just to give the watch a few winds because it was fun.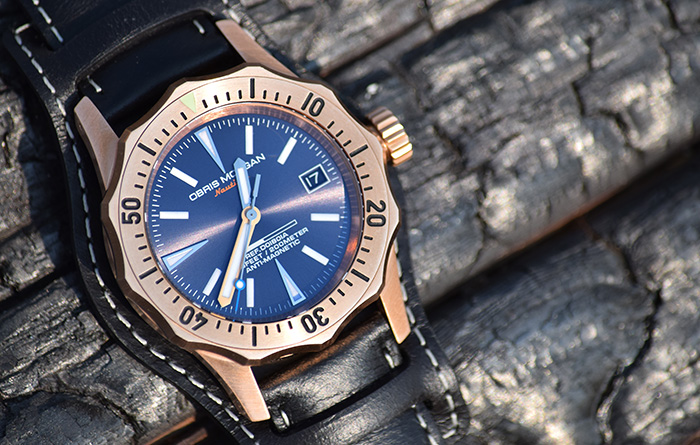 The Orbis Morgan Nautilus is not a perfect watch, far from it. It is a unique, quirky, bronze watch unlike anything else in my collection. It is also one hell of a deal at $379.00, has a great movement and lots of character. The Nautilus reminds me of my first car an Opel Kadett from the early 70's, a terrible car with all kinds of issues but it ran like a tank, (even on three cylinders) was kind of ugly, but I loved it, it was my first car. The Nautilus will forever be my first small sized bronze watch, idiosyncrasies and all.
Keep on a Watching!
Ed
Orbis Morgan Nautilus
Summary
The Orbis Morgan Nautilus is an interesting watch the works despite itself. Its also a fantastic deal at $379.00 with a Miyota 9015 movement. If you are going to order one, I highly recommend that you look into some other straps, they really changed my mind on this watch. Orbis Morgan was experimenting when they put this watch together and I'm excited to see what they will do next. Hopefully I will be able to get one!