As noted in my Case Shape post we are living on my parents 59' Symbol boat. I guess at this size it's OK to call it a yacht. Which begs the question what is the ideal watch for the yachting life? Of the nine watches I have with me, none of them really worked for the boating lifestyle. If I had to pick one I have here it would be my Seiko Turtle as the most at home living on a boat, its tuff, looks good and has a sporty feel. I think any tool diver would work but is there a "dedicated" yachting watch. Internet search to the rescue!
Of course, the first watch that popped up on my list was the Rolex Yacht-Master Lines. I'm not a Rolex guy, don't get me wrong, I like Rolex watches, especially their heritage and internal movements but the value equation is all wrong. The Rolex Yacht-Master II is a super interesting watch designed for competitive yacht racing, the Ring Command Bezel is a feature I haven't seen on any other mechanical watch. But at $18,750.00 (on their website) it doesn't work for me, especially for a steel mechanical watch. Rolexes are interesting and unique watches that at one time were industry innovators now I'd say they are simply a status symbol, which is not why I collect watches.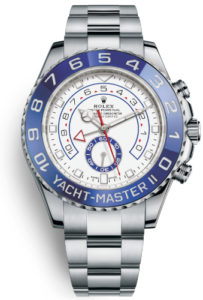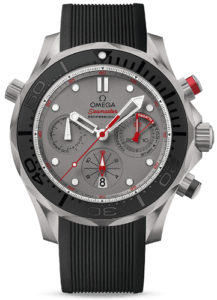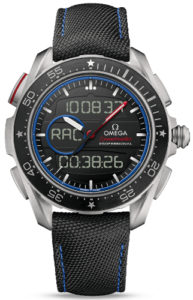 Another high-end watch is the Omega Seamaster Diver 300M ETNZ, a special edition watch in their Seamaster line. This watch celebrates Omega's relationship with the Emirates Team New Zealand sailing team. This $7,800.00 watch is defiantly hearty with a 300 meter water proof rating and a regatta timer, but it too suffers from the crazy price tags of so many swiss watch brands. I love Omega watches, I think they are beautiful masterpieces of time telling. On the more reasonable side is the $5,900.00 Speedmaster X-33 Regatta Chronograph 45MM. It includes Regatta functions to keep track of the race from start to finish. Check it out here.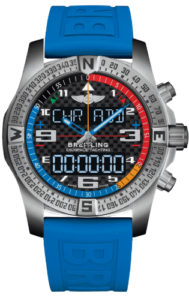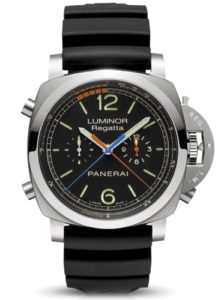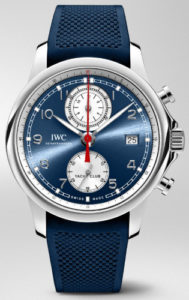 Some other higher end watches for yachtsmen include the Breitling ExoSpace B55 Yachting, Panerai Luminor 1950 Regatta 3 Day Chrono Flyback, and the IWC Portugieser Yacht Club Chronograph.
On the more reasonable side is the Seiko Velatura Advanced Chronograph Yachting Timer. This kinetic movement watch is the best of both worlds, with a high accuracy quartz movement be powered by the movement of your wrist like an automatic watch. I think the Veltura line from Seiko is being discontinued as they no longer have the Velatura watch line on the official Seiko website. (Can anyone confirm that the line is discontinued?) From the mid $300's to the mid $700's you can get yourself an interesting well-made watch. This particular model features a countdown timer, sapphire crystal and a chronograph.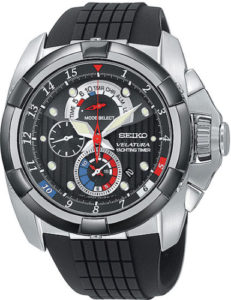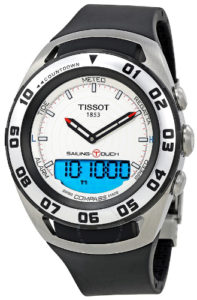 Another more reasonable watch is the Tissot Sailing Touch available on Amazon with a White, Black or Blue dial. For $340 to $650 depending on dial color you get a full featured watch that is tuned for the yachting lifestyle. I've always found the Tissot T-Touch series interesting, I especially like the solar powered titanium models. The idea of a touch sensitive glass/case on a watch make lots of sense in an age of smart watches. But for some reason I've never pulled the trigger on getting one, I think it is that I just do not find them very attractive. Regardless of the look the Sailing Touch is a very capable watch, with a long laundry list of features. They include; perpetual calendar, 2 Time Zones, Barometric Pressure Readings, Tide Indication, Countdown Timer, Chronograph, Temperature display, Compass and more.
My favorite yachtie watch and the one that I recently ordered to use while on the yacht in San Juan is the Japanese market Casio G-Shock Gulfmaster. Part of my desire for this watch was that I was looking for something in bright yellow, had (have) a total lust for the Christopher Ward C60 Trident Limited Edition in yellow, but think that the Gulfmaster GWN-1000H-9A I ordered is a better deal for the money.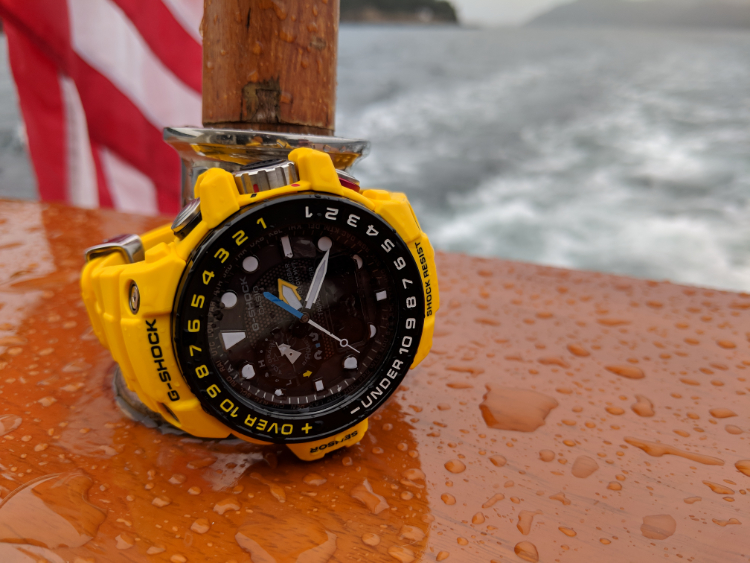 I ordered the Gulfmaster from shoppinginjapan.net for $417.00 (currently is $534.00) and received it in about a week and a half. The version on Amazon (I'm assuming is the US version) has a few subtle differences vs. the Japanese market model, silver bezel, no yellow hour hand etc. One of the features that really drew me to the Gulfmaster was the high and low tide feature. Living on a boat and having to walk up and down the ramp when there is a 10+ foot tide is something you want to know, especially when hauling the groceries. The other features that I really wanted were the alarms, the solar power and of course the bright yellow case. As for the many other features, I like the idea of the barometer, temperature and altimeter (eg: the Casio triple sensor) but they really don't lend themselves as make it or break it features. I liked the idea of the barometers storm notification feature, but have yet to hear it go off, and have had plenty of storms in the last month to for it to warm me of.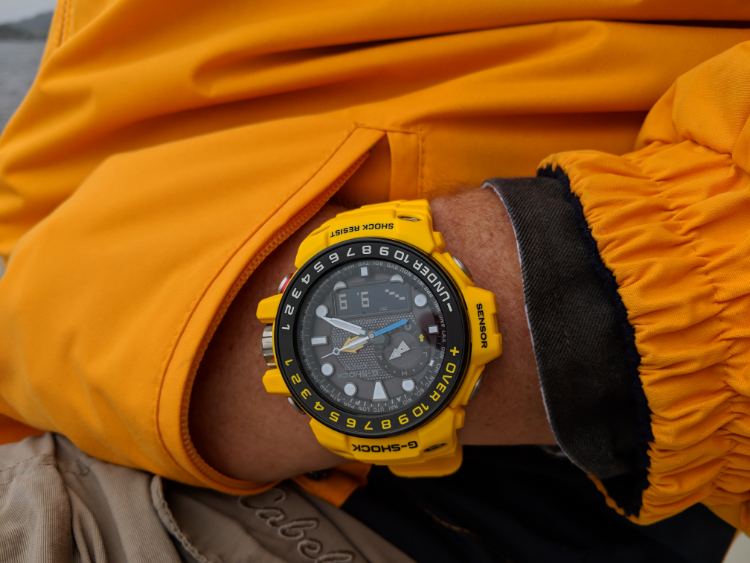 One of the surprising things I found about this G-Shock is the new band redesigned is super comfortable. The material is noticeably softer than my GravityMaster and immensely nicer than my old Mudman's plasticity band (see review here). For a big watch this thing sits low and super comfortable on the wrist. The Gulfmaster acquainted itself well on the boat for the two weeks we had left in our stay, will definitely be my go to watch for future boating adventures. Even though we are currently in Williams AZ, "big yella" is still getting some wrist time as fun, sporty, action adventure watch.
Keep on a Watching!
Edward
Gulfmaster GWN-1000H-9A
Summary
Every man needs a G-Shock in his collection. Pick the one that works for you and you can't go wrong.