We have abandoned the RV in Bayfield CO and driven up to the San Juan islands in the most northern corner of Washington state to spend time with my parents. The cool thing is that we get to live in their 59' Symbol boat, which is 14' bigger than our RV and has three decks. There is nothing like the gentle swaying of the boat to put you to sleep at night.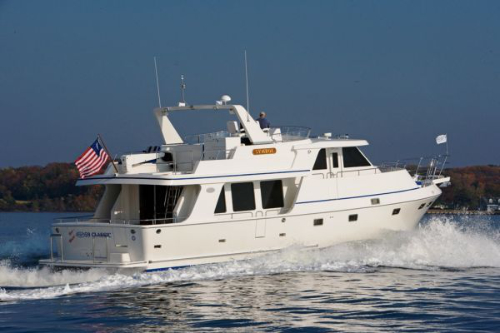 The other cool thing is that I can pick up the 6 watches that had stored in the house here on the island. It's like rediscovering an old relationship, with friends you haven't seen for a long time. One of the watches I had in storage was the Zodiac ZMX.01 Z08518 a big 46mm wide quartz beast of a sport watch. And it just so happens that I brought along my Zodiac Oceanaire Automatic ZO8013. Seems like a good time to talk about adventure watches, case shapes and the Zodiac brand.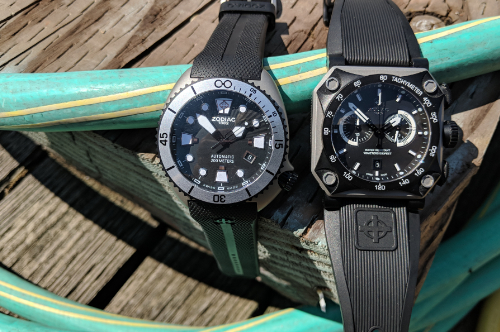 When it comes to the shape of a watch case you can find any shape from round to square, and simple to complex. Nothing effects the wear-ability of a watch more than its case shape, if it's too big and bulky it feels like your lugging a brick around on your wrist, to small and dainty and you forget it's there and get the dreaded Seinfeld "man hand" effect.
Watch cases are measured by width and length (lug to lug distance) in Millimeters. My wrist is 7.25" in circumference, per Watch Cases the average is 7.17 inches, so I'm very close to the average. My preferred case size ranges from 42mm to 45mm wide, with a height of less than 13mm anything taller feels very awkward and bulky.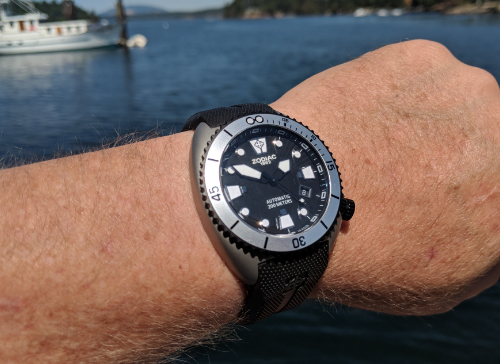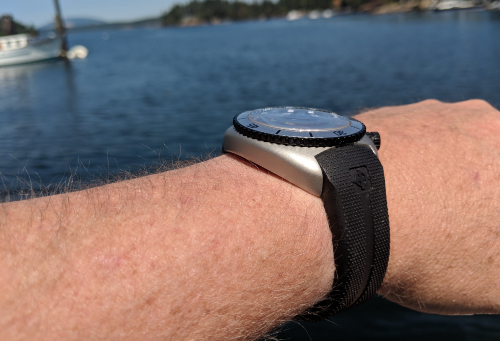 My two Zodiac's are very similar in color, both are black, white and gray, but they wear incredibly different because of the different type of cases. The Oceanaire which is only 1mm narrower (45mm vs 46mm) and only 1mm thinner (12mm vs 13mm) feels smaller on the wrist because of its curvaceous case shape. The curving band on the Oceanaire also helps with the way the watch sits on the wrist. The ZMX on the other hand is a big square block of metal, it does not have the thin delicateness of a Bell and Ross BR-3, it is more of a brick. This is not necessarily a bad thing, in fact there are times I really like a big bulky watch, (see my Invicta post here) it's fun, its manly, it's just badass!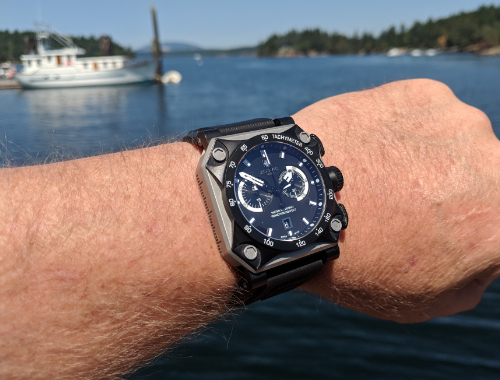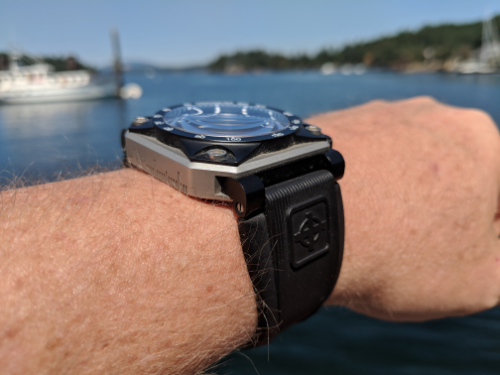 Both watches are big, butch, sturdy watches, but the Oceanaire is built for diving with a water resistance of 200 meters while the ZMX is only good for 100 meters, so it's more of a land-based adventuring watch. While on the boat in San Juan the Oceanaire definitely feels at home, the smooth curved case has an aquatic feel, and I particularly like the double pip in the bezel. I took the ZMX hiking in the American Camp park on the southern end of San Juan island and it worked great, it has an unstoppable tank like quality that I apricated while hiking through the woods. It feels like nothing could hurt this watch, perfect intentions for an adventure watch.
Over all I like my Zodiacs, they are not everyday watches for me, even though one or both are often in my regular rotation. I really like that they are both numbered with the ZMX being number 342 of 5000 and the Oceanaire being number 90 of 5000. Both are manly watches that I think can take a beating, I have a feeling that as these watches wear they will look better with some battle scars on them. I also like that I got them both for a heavily reduced-price right near then end of their respective product cycles, I found the ZMX at TJ Maxx for $210.00 and the Oceanaire on Amazon for $336.00, which is not bad for a swiss mechanical watch with 200-meter water resistance rating. Both watches initial pricing was north of $800.00.
What I don't like and think that Zodiac really missed an opportunity with these watches, is that the lume is weak and does not last very long. With the complex and bold dials, you would think that the lume would be awesome and interesting, unfortunately it is not. Also, the ZMX really likes to eat batteries, I think I'm getting between 7-10 months on a single 394 button cell, you'd think with a case this size they could have made room for a larger battery. It is particularly disappointing when you realize the watch goes into power saving mode when not worn, so it needs resetting every time it gets worn.
Zodiac is an interesting old brand (1882 per there website) that seems willing to try new designs as well as reinvent their product line every few years. They are currently doing a retro thing, I'm really digging the Astrographic,  Grandrally and particularly the Super Sea Wolf lines. Will definitely keep my eyes open for some bargain Zodiac watch deals as the current product lines age.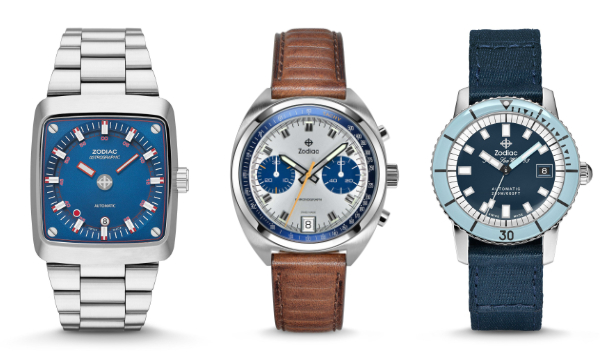 Keep on a Watching!
Edward
Zodiac Oceanaire and ZMX
Summary
The Zodiac ZMX and Oceanaire lines are big bold masculine watches for the adventurous man. I think both of these watches will look better the more wear and tear they receive. Both lines are pretty much sold out, but you can still find some deals on Amazon or eBay. For under $500 (sale prices) you get a genuine Swiss watch with a decent feature set, tough cases and sporty dials. Unfortunately, both watches loose points for less than stellar lume, high initial pricing and being on the slightly bulky/chunky side.