Whether you are a police officer, a firefighter, or in the military – or if you simply want to have the best tactical watch possible – having a reliable and robust timepiece is important and could potentially be life saving.
Let's find the best watch for you! But first, let me show you my top-3 picks straight away:
You'll find more information about them later in this post.
How to Find the Best Tactical Watch?
Let me first say that "tactical" is just a marketing term that describes the style of a watch, but it doesn't necessarily have anything to do with its quality and how it functions in a real tactical or military environment.
As I'm not interested in semi-crappy watches that look tactical (neither should you), I will instead focus on how to find the best military watches. 
So, what functions and features should the perfect military watch have?
Reliability
Reliability is absolutely essential. The perfect watch needs to be reliable in more than one way:
It needs to be tough and durable, and have a robust movement. It should be able to take a severe beating, and still carry on like nothing has happened.
It should be able to withstand large temperature variations. Theoretically you could be sent on a secret mission to the Saharan Desert straight from your even more secret mission in a freezing cold Siberia. Hey, I said theoretically…
Accurate timekeeping. You don't want to kick in the door to Osama Bin Laden's bedroom at the wrong time. Seconds matters.
Waterproof
Water resistance is also a very important feature. After all, a real Navy Seal occasionally takes a swim, right?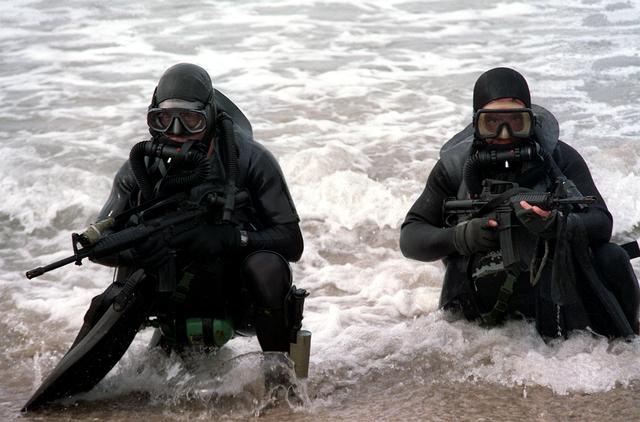 Luminescent dial or backlight
A luminescent dial or some kind of backlight (diode or electroluminescent) is a must, because your watch is no good if you can't see the dial. A special-op doesn't only operate during office hours you know.
Be careful though. You don't want your watch to light up too much. I've heard a story about a sniper that killed an enemy whose wristwatch lit up a little too much.
Reliable power source
What if you're deep in the Colombian jungle hunting down cocaine smugglers (just a normal work week for a badass like yourself) and suddenly the battery runs out? Not good! It's better to have a watch that runs on solar power or on the movements of your wrist.
Practical and easy to use
A great product needs to be practical and easy to use. A tactical watch is no exception.
An easy-to-read face is a big plus. A quick glance should be enough to tell the time, even during nightfall.
It's also practical if the device strapped to your wrist is lightweight and slim. Because it shouldn't hinder your movements in any way. Not even in a firefight with desperate talibans.
Having a high-quality tactical watch band in the right material could make a world of difference. Wearing a metal watch band in arctic winter is a terrible idea (trust me, I've done it). The reason is that metal conducts heat away from the body much faster than a non-metallic material would. In other words, cooling down the radial artery in your wrist with a freezing cold watch band could help cause hypothermia. It's much better to choose a strap made of resin, nylon, silicone, leather, or other non-metallic material.
Other important features
Here's a bunch of other features that I think are important (but maybe less important):
Chronograph (stopwatch) and alarm function. You want to detonate the hidden explosives you put under the terrorist leader's brand new Toyota Hilux at precisely 4 minutes and 30 seconds.
Discreet and unobtrusive style. To not arouse suspicion when on an undercover operation deep behind enemy lines.
Navigation. If the watch of your choice is digital, then it should have a GPS or compass feature. But if you like to keep things old school, your analog watch can actually be used as a compass.
Scratch-resistant dial window. Sapphire or acrylic crystal are the most common materials used.
Cheap to buy. If the price is low, it will be easy and cheap to replace it (unlike these bad boys).
It should not reflect light as that could reveal your position to the enemy.
My advice
Not all features are equally important of course. Some are absolutely essential while others are only important in certain scenarios and environments.
My advice would be to prioritize and decide which features are the most important, based on your individual needs. Make a short list of the really essential ones to help you find the right watch!
The 3 Best Military Watches
These are the three best military watches we could find on the market. They are at the absolute top of their class, and it's no surprise that all three of them are extensively used by military personnel from NATO countries (USA included).
A watch that didn't make my top-3 list – but deserves an honorary mention – is the Suunto Core Classic Black. It's a great device to have, with many useful features (compass, barometer, altimeter etc.). The reason it didn't make the list was because it drains the battery much faster than other watches. A dead watch is a bad watch, so to speak.
Timex Ironman Rugged Black Full-Size Watch
The Ironman Rugged Full-Size Watch from Timex
is an all-black digital watch that will help you track your workout as well looking cool at work. It has stopwatch, countdown timer, alarm, lap counter, and many more standard features.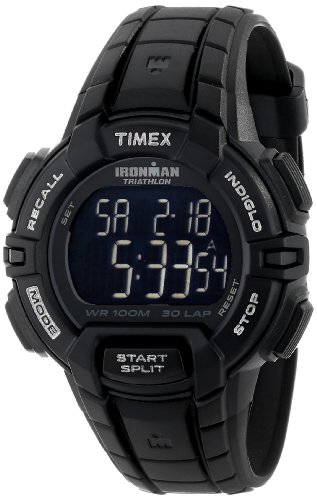 The Ironman is water resistant to 100 metres and has a sturdy construction that's built to take a beating. With its low price, it's no wonder it's become a popular choice among US soldiers.
Pros: Cheap, practical
Cons: Battery powered, no GPS or compass feature
Casio G-Shock Mudman Solar Black G9300GB-1
G-Shock watches from Casio are legendary. Everyone likes them. And the G-Shock Mudman Solar Black G9300GB-1 is no different.
It's very robust and reliable. You can expose it to terrible weather and rough environments – dirt, mud, dust, water, and daily beatings – and it will keep going. I love it!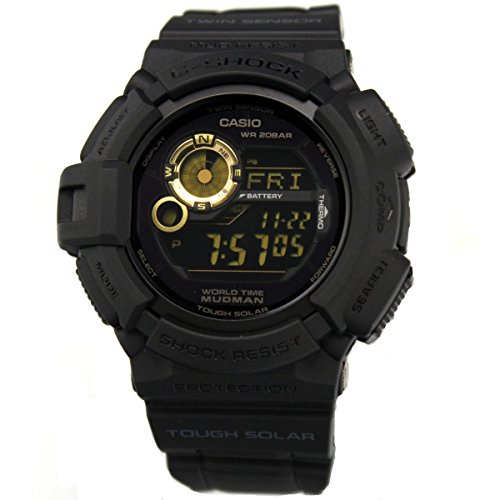 With water resistance to 200 metres, a digital compass feature, and a solar rechargeable battery, the Mudman is a fantastic timepiece for tactical environments. The only downside is that it's big and bulky. But then again, some people like that.
Overall, it's one of the best military watches out there.
Pros: Tough and reliable, solar powered, compass feature
Cons: Bulky
Luminox Men's 3051 EVO Navy SEAL Colormark Watch
The 3051 EVO Navy SEAL Colormark Watch is a very robust analog timepiece from Luminox.
If you haven' heard about the Luminox brand before, don't worry. Luminox timepieces are worn by a long list of military special forces and law enforcement units all around the world. Including the legendary US Navy SEALs. In fact, this particular model is currently used by both Navy SEALs and US Air Force pilots.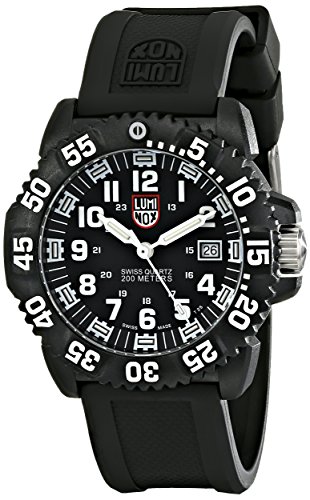 This watch doesn't have a long list of features like the two digital devices have. It shows time and date, and is water resistant to 200 metres. And since it's analog, you can use it to find the true north. But perhaps it greatest strength is its absolute reliability.
Listen to what retired Navy SEAL Nick North has to say:
Pros: Simple, absolutely reliable, and easy visibility at night (100 times brighter than similar watches).
Cons: No stopwatch or alarm features, battery powered
Best Tactical Watch for the Small Budget
The Casio Men's W59-1V Black Digital Watch is the watch I prefer to use both at work and when I'm out hiking in the mountains. It's not stylish and good looking in a classical sense, but I think it looks cool in a retro kind of way. But even if you don't like the way it looks, I still think you should consider buying it, because it has many advantages.
Above all else, it is extremely cheap. Around $14. It doesn't matter if you lose it, or if the watch band breaks (which it did after a few years of daily usage for me). Just buy a new one!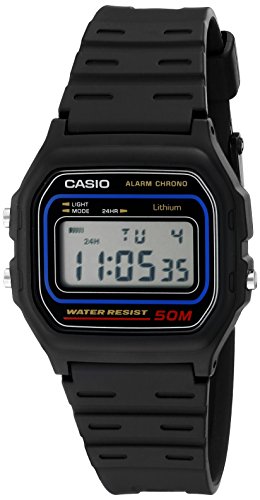 So, if you are ready to ignore appearances (or if you like it like me), let's look at why I think the Casio W59-1V is the best tactical watch for the small budget:
It's black, small in size, lightweight, and unobtrusive – which means it will not hinder or expose you in any way.
It's relatively robust and reliable.
Water resistant to 50 meters. In the real world, that means you can swim, snorkel and shower with it. Diving is not recommended.
It has alarm and stopwatch functions.
Night light. Press a button and you can see what the time is even in complete darkness.
Super cheap!
When it comes to disadvantages, I'd say it has three:
Limited water resistance. If you're a diver, this watch isn't for you.
Navigation. It doesn't have GPS, and because it's digital and not analog, you can't use it to find the true north.
Looks. Ok I admit, it doesn't look as good as the three more expensive watches.
For my full review after one year of usage, click here.
If you think $14 is till too much, you could opt for the even cheaper Casio F91W-1 Classic Resin Strap Digital Sport Watch. For only around $10 you get a similar watch to the W59-1V, but with inferior water resistance. Apparently, this is the model that al-Qaeda terrorists use.
Final Words
Finding the best tactical watch is all about understanding how and where you will use the watch. Once you have figured that out, the rest is pretty easy.
If you still can't decide, and as long as you don't have thin wrists (like me), I'd say go for the Casio G-Shock Mudman. It's a fantastic watch with a fair price.
Good luck!