The quick version.
WhichWatch is the place to share stories and information about our passion for watches and our love of life.  From the watch you chose for an interview, to the one you picked to go hiking with, we want to know. Our posts can range from slightly technical to totally whimsical and any and everything in between. Not only do we talk about the watches we love, the ones we hate, and the ones we want, but we also talk about all our passions. From cigars to beer, and from cars to travel, odds are we might write about it. We welcome guest contributors and would love to hear about your stories and adventures.
The long version.
Ok, so how does a guy end up collecting watches. As usual it's a long story. About six or seven years ago I had some reason to need a watch, I think it was some function where I couldn't bring or use my cell phone. After rooting around in my drawers I finally found my two watches that I had, and they were both battery powered (quartz) and dead. Being totally pissed I thought I would investigate getting a new watch.
Enter the watches on Amazon where I discovered the amazing Automatic watch, powered by the movement of your wrist! Perfect, and totally cool! I can leave it in a draw for years and just wind it back up when I needed it. So, after hunting around I finally picked out an Orange dialed Orient Mako. 41mm Case with Day and Date, water proof to 660ft, Perfect. In fact, I still have it, even thought my 9-year-old son has officially stolen it from me, and has no intentions of giving it back. (Graciously, he let me use it for some pictures.)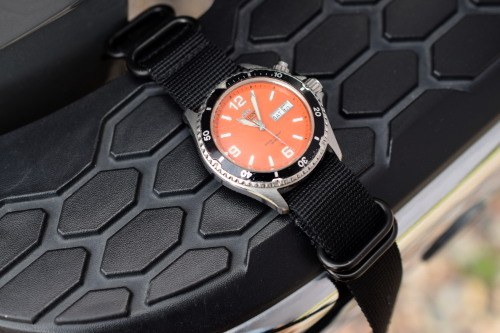 Thinking at first it was just a replacement for my dead Quartz watches, I started wearing it daily, and I fell in love. So much so, that I stopped wearing it when I was on jobsites (I had a remodeling company and small real estate portfolio at the time). Of course, that precipitated that I get a watch for the job site. Finding a tough durable watch that I was OK with beating the heck out of proved quite a challenge. My search started down the tool diver road (the Mako was the launching point for my love of divers) and I started discovering all kinds of amazing brands and started learning more and more about watches. By the time I had finally settled on the Casio G-Shock Mudman, which had just come out I was totally hooked on watches. I found the Mudman on Amazon for $223.00. The same watch is now $128.37 on Amazon. But I must give credit to the G-Shock, it has been through hell, in fact I'll do a review/post on it and detail some of some of the terrible things that have happen to it. Its posted here.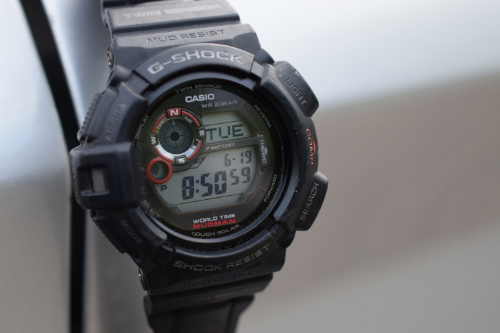 Things really got going after the Mudman, I started with cheap watches mostly from Amazon and direct sales from brands like Andriod (now Aragon) and Alpha. As my collection grew I ended up giving a lot of those early watches away. My collection really picked up steam when I started selling my real estate holdings, each house sale precipitated a new watch (or three) being added to the collection. I decided early on that I would not spend more than $1,000.00 on any one watch and that each one had to have something unique about it. I have been mostly true to those self-imposed parameters even though I do break my rules occasionally. Also, I have no watches that are for show or investments, I wear them ALL, regularly.
In 2014 my family and I decided that we didn't want to live in Ohio (long story) anymore and ended up getting an RV. So now we live in our 45' Fifth Wheel and we travel the country. My watch collection has become rather large. Have a watch case of 24 that are my daily wear watches and I have a total of 64 watches currently. They range in price from a $100 Alpha Sundial to a $2,500 Bell & Ross Golden Heritage. I need to give credit to my mother who has been very supportive and the backing behind several of my nicer pieces including the Bell & Ross.
My wife also has been very supportive of my expensive hobby, so much so that she bought me whichwatch.org for my 52nd birthday. As a web developer she has been looking for something to help me "express" my passion for watches.
Hope you enjoy whichwatch.org as much as we enjoy running it and we would love to hear about your watches or life stories. Contact me directly on the "Contact Form." page for information on how to submit a story, a watch you would like me to review or if you just have questions.
Thanks, Edward
Terms & Conditions
We will always attempt to provide the best and most accurate information possible here at WhichWatch.org, but you are responsible for your own actions. We will not be held liable for anything that happens from the use of the information here.
If you require any more information or have any questions about our privacy policy, please feel free to contact us by using our contact page.
At WhichWatch.org, the privacy of our visitors is of extreme importance to us. This privacy policy document outlines the types of personal information is received and collected by WhichWatch.org and how it is used.
Log Files
Like many other Web sites, WhichWatch.org makes use of log files. The information inside the log files includes internet protocol (IP) addresses, type of browser, Internet Service Provider (ISP), date/time stamp, referring/exit pages, and number of clicks to analyze trends, administer the site, track user's movement around the site, and gather demographic information. IP addresses, and other such information are not linked to any information that is personally identifiable.
Cookies and Web Beacons
WhichWatch.org does not use cookies.
DoubleClick DART Cookie
Google, as a third party vendor, uses cookies to serve ads on WhichWatch.org.
Google's use of the DART cookie enables it to serve ads to users based on their visit to WhichWatch.org and other sites on the Internet.
Users may opt out of the use of the DART cookie by visiting the Google ad and content network privacy policy at the following URL – http://www.google.com/privacy_ads.html
Some of our advertising partners may use cookies and web beacons on our site. Our advertising partners include Google Adsense and Amazon Associates.
These third-party ad servers or ad networks use technology to the advertisements and links that appear on WhichWatch.org send directly to your browsers. They automatically receive your IP address when this occurs. Other technologies (such as cookies, JavaScript, or Web Beacons) may also be used by the third-party ad networks to measure the effectiveness of their advertisements and/or to personalize the advertising content that you see.
WhichWatch.org has no access to or control over these cookies that are used by third-party advertisers.
You should consult the respective privacy policies of these third-party ad servers for more detailed information on their practices as well as for instructions about how to opt-out of certain practices. WhichWatch.org's privacy policy does not apply to, and we cannot control the activities of, such other advertisers or web sites.
If you wish to disable cookies, you may do so through your individual browser options. More detailed information about cookie management with specific web browsers can be found at the browsers' respective websites.
Links to other websites
WhichWatch.org may contain links to enable you to visit other websites of interest easily. However, once you have used these links to leave our site, you should note that we do not have any control over that other website. Therefore, we cannot be responsible for the protection and privacy of any information which you provide whilst visiting such sites and such sites are not governed by this privacy statement. You should exercise caution and look at the privacy statement applicable to the website in question.