Ireland doesn't have a long and proud history of watchmaking like other European countries.
But that is slowly starting to change, because there are (at least) seven Irish watch brands on the market right now.
You're probably not familiar with them as they are relatively small fish in the very big horological pond. Much like the watch companies in Poland. They nevertheless make very nice watches that I would be glad to wear.
These are the seven Irish brands we know about:
1. Ansley Watches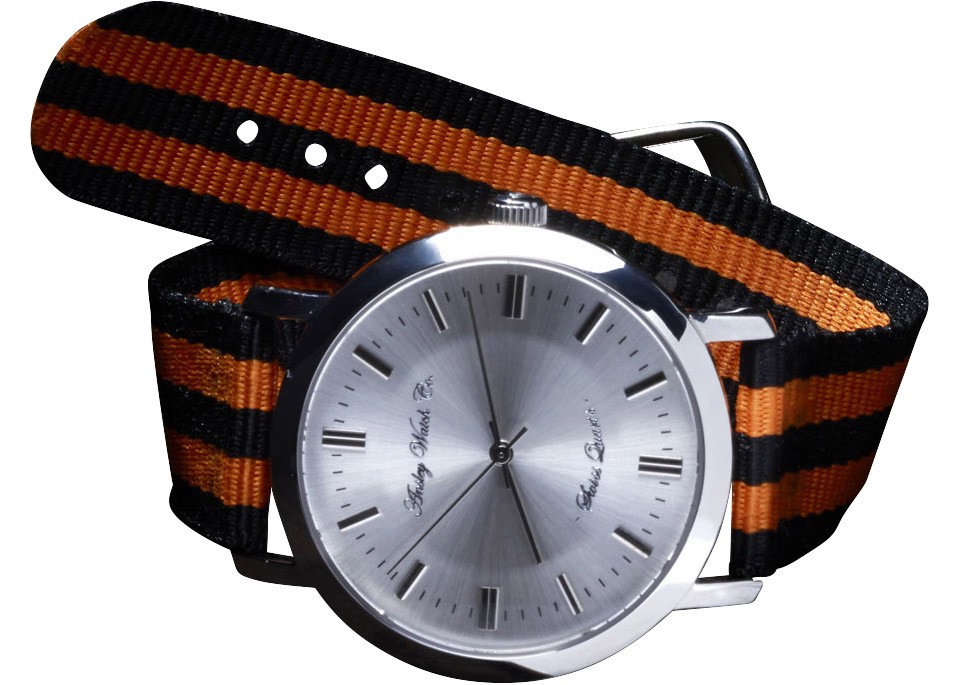 Founded in 2012 by an Irishman and a Swede, Ansley Watches use old-school techniques to handcraft traditional and timeless timepieces. Based in the small village of Ráth Cairn in the north part of Ireland, Ansley has focused completely on making quartz Unisex chronographs with nylon and leather straps.
Prices are in the €149 – €169 region.
With a little bit of vintage inspiration, Ansley has so far managed to produce two series of watches. The World War 2-inspired Army Series, and the Sailor Series, inspired by the 1960s.
"Scandinavian Heart. Irish Blood."
That's their slogan (it's a joint venture between a Swede and an Irishman, remember?). Can you see any similarities between Ansley and the Swedish watch brands we looked at earlier?
2. McGonigle Watches
After working for famous watch companies in Switzerland, brothers John and Stephen McGonigle founded McGonigle Watches in 2006. Based in the small town of Athlone, their small-scale operation have so far produced three models. The Tourbillon, the Tuscar (picture), and the Tuscar Bánú.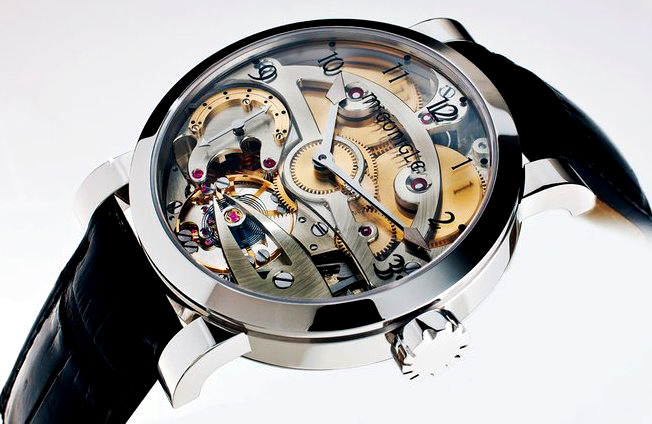 A special thing about McGonigle, is that the customer is invited to collaborate on the design work. Not only does the customer get a finished watch that's exactly what he wants, but he also get a highly customized timepiece that's truly unique. I think that's something every serious buyer would only dream about!
Now, this level of customization would never be possible at the bigger brands, but because the McGonigle brothers handcraft every watch themselves, they can do just that.
John and Stephen decided early on that each and every one of their products had to meet four important core principles:
Aesthetic beauty
Technical brilliance
Longevity
Resilience
The level of experience, dedication, and professionalism – expressed by these core principles – is truly impressive. But it comes at a high price (up to $60,000!). If you ask me, owning a McGonigle watch can seriously rival the best brands in the world!
3. Telstar
Telstar is the oldest of the five Irish watch brands in existence today. It was founded in the town of Shannon in 1976 by present owner Solatrex International Ltd. The first timepieces were all electronic, but today the range of products are much wider.
Children's watches, digital sports watches, chronographs, and even jewelry, are sold (primarily in Ireland, Slovakia, and the Czech Republic). Prices are lower than for Ansley and McGonigle watches, ranging from €30 – €100.
To be honest, I'm not overly enthusiastic about the Telstar products. The watches look cheap and mass produced.
4. Rovada
Rovada Watch Co Ltd, located in Dublin, manufactures Claddagh and Celtic watches under the Rovada brand. Designs are inspired by folklore, mythology and Celtic art.
The watches look like…. well, I can't even describe them, but something that's aimed to capture the interest of tourists. Yes they are not cheap to buy! Prices seem to be around €80 – €200. Nothing for me!
5. Push
Push was started to offer great design at an affordable price to the masses. They sell two collections (Rainbow and Night&Day) of digital watches with a very specific design.
My opinion is that they succeeded with making a watch that sells for a low price (€39 – €59), but failed on the design part. But hey, fashion and good looks are all in the eyes of the beholder. You might like their futuristic (or should I say retro-80s?) and square timepieces. Whatever floats your boat…. 🙂
6. SAS
SAS stands for Sea, Air & Sport, and is one of two brands that is owned by SAS Watch Company Ltd (the other one being #7 on this list). As the name implies, the goal is to make three robust and durable series of timepieces: Diving, Pilot and Sport watches.
Using only Swiss movements, the analog watches are designed and hand assembled in Wicklow, Ireland. Judging from the pictures on the website, they have created a couple of interesting and tasteful products (although no Sport watches were for sale at the time of writing this).
7. Mileata
The newly started Mileata brand has the same owner as SAS, which means their wrist watches are also assembled in Wicklow. Although Mileata makes military and law enforcement watches (mileata means military in Irish), they share some of the design with their sister brand SAS – as you can see from the two pictures. It almost feels like the same brand…
With only two models available right now, Mileata is not a big brand by any means. But with a strong focus on the military niche, perhaps they can carve out a fruitful future for themselves. Time will tell.
Conclusion
These are seven very different brands. The only two things they have in common are that they are Irish and that they keep track of time, nothing else.
I would personally consider buying something from the first two brands on the list – Ansley and McGonigle. I think they make beautiful timepieces!
SAS and Mileata are in the middle of my ranking. You could absolutely try their products, although I like Ansley and McGonigle more.
Telstar, Rovada, and Push, may sell good and solid watches, but they aren't beautiful or stylish enough for me to even consider.
Updated August 14, 2015. We have added #6 SAS and #7 Mileata to the list. Thank you (owner) Graeme Haughton for informing us!