Does it get much better?
Sitting in the rain in Dubois WY smoking a CAO Pilon and having an Avery Brewing Co. Vanilla Bean Stout. We are currently parked at The Longhorn Ranch RV Park in Dubois WY, and the weather is almost chilly, 58 for our high and 42 for our low, on June 17th. This being our first time in the Wind River Valley we are blown away at how cool it is here at 7,000 feet.
If you're a cigar smoker, I highly recommend the CAO Pilon's, it's a great smoke. The Ecuador Habano wrapper and long Nicaragua filler is full of notes of cedar, peppers, nuts and cocoa. This 90 rated cigar is well constructed with a solid burn and a hearty draw. I paired the CAO with an Avery Brewing Company Vanilla Bean Stout in their Botanicals and Barrels line, a strong 10.8% brew that's been Bourbon barrel aged. These two went great together, both complimenting each other's strong flavor notes. What a great pair! On a side note I also love the Raspberry Sour from Avery's Botanicals and Barrels line as well, goes great with a lighter Ecuador Connecticut shade wrapper cigar like a 5 Vegas Gold.
We went out to the Cowboy Café for lunch so I'm wearing my Cowboy boots today. Thought I'd compliment them with my Maranez Rawai 45mm Brass watch on the Dark Brown Strap that came with it. This particular watch has a forced patina on it that I did by putting the case of the watch in a steam bath of balsamic vinegar and salt. It was more dramatic right after I pulled it from the vinegar bath, lots of turquoise and reds, but has since been polished and somewhat cleaned simply by wearing it. Aside from the large and interesting case I really like the blue dial with the California style markings which have great lume on them. This watch has gotten quite a bit of compliments, it really has a presence that is very appealing. The Seiko NH35 movement is nothing special but is very reliable and keeps acceptable time. Of my 5 Brass/Bronze watches this is defiantly one of my favorites.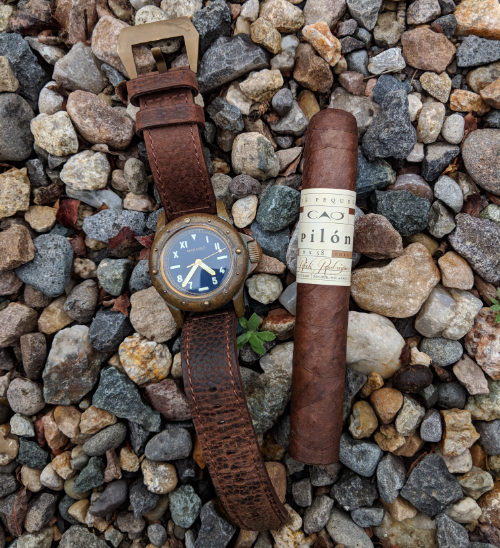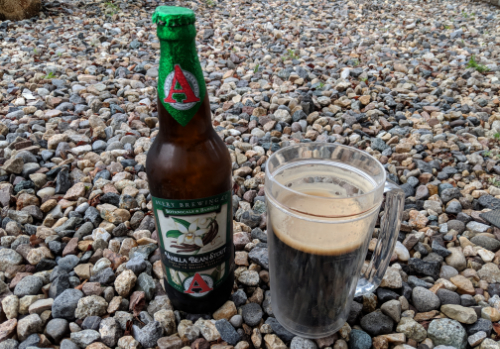 The new Rawai 45's have a silhouette of a Submarine on them with the blue version now sporting a Sunray dial. Also, the dials are plainer with a sandwich dial of numbers at 12, 3, 6 and 9 and stick markers for the remaining numbers. I like the new versions but definitely prefer mine. Maranez is currently reducing their stock for the year, I'm really looking forward to seeing what they will be introducing later this fall or early winter. Personally, I'm hoping they expand their offerings with the natural stone watch faces, it makes each watch unique and very interesting. The Maranez website has a great customer pic section (here) that shows the unique and interesting nature of there customers and watches. With reasonable price points, Maranez is defiantly one of my favorite indie watch brands that really lend themselves to personalization. My only gripe is finding room to store all the watch bands I keep buying for my Maranez watches! OK truth be told I have a band or three for all my watches. 😉
Keep on a Watching!
Maranez Rawai 45 Brass -

8.25/10
Summary
This big burly hunk of watch is perfect for making a statement. Also is great for experimenting with forced patinas. The NH35 Seiko movement is good but not great, and losses some points for it. A lot of watch at a great price point for $350.00. Look for the frequent Maranez sales for up to a 20% discount. Awesome fun brass watch!