When we were parked in Bayfield CO last July (2018) we took a day trip to Mesa Verde National Park. On these day trips I typically know exactly the type of watch I would wear, see my post on my Yellowstone Weekend for example. But Mesa Verde really threw me, its more of a driving park than a hiking/walking park, also the cliff dwellings are truly amazing feats of construction, in a very inhospitable environment. Originally, I was going to wear my Brass Maranez Layan with the Agate Dial, but decided against it (I did wear the Layan to the Grand Canyon instead, post coming.) I ended up rocking my Hamilton Khaki Aviation Pilot Pioneer Automatic on the Blue NATO strap that it came with, a unique and interesting watch that beats to its own drum. Hamilton's own website describes the Pioneer as "The Khaki Pilot Pioneer range is a nod to 70s military aviation design…" Its definitely just a nod as the Pioneer is not rugged, it's not big nor manly, in fact it wears small and light on the wrist, the unique aluminum case easily makes it one of the lightest watches I own. If there is any "Military" DNA in this watch it is just in the design of the dial. I do however really like the internal bezel feature, this is the only watch I have with an internal bezel, and I really like how it stays in place. I mostly use it for timing the laundry (one of the downsides of RV life is the shared laundry facilities) as people get very sensitive if they are waiting for a washer or dryer and you let your laundry sit for hours before returning.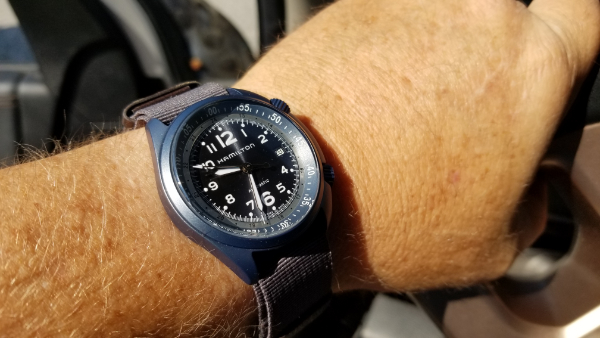 Hamilton no longer makes the Pioneer Auto in aluminum, it is now in Stainless Steel, (check it out here) which is unfortunate as I personally really like the feel and finish of the aluminum, especially in the steel blue color. The nice part is the overall specifications have not changed, it is still 41mm wide and 13mm high which is a great size, also the fit and finish is excellent. It was also an excellent deal having paid $633.00 on amazon. If you look around, you can still find this watch in the $400 – $650 range. Not sure what the new one in steel is going for, figure it will be close to the original $1200 that the aluminum line started at. Have read a review on this watch that questions the durability of an aluminum cased watch, I can report, so far so good, but this is not a daily wear watch for me. It has been in and out of my daily rotation for the last year and has seen at least a couple of weeks of wear, but still looks brand new, with that said I would also not wear this watch to work on the car or do anything else where durability might be an issue.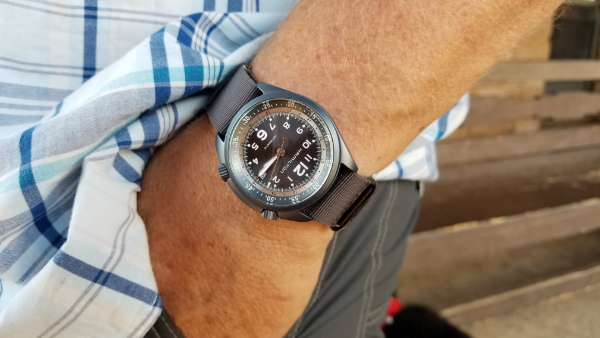 As for Mesa Verde, the Hamilton did great, barely noticed it was there, it's so light. Also, the white numerals and markers on the dial are super accurate and easy to read. It might be a stretch to even say that the Hamilton Pioneer Auto was much like the Anasazi people in that they were both exploring new techniques in building, even though the Hamilton is using space age materials and the Anasazi were just exploring new living spaces. I said it was a stretch.
Keep on a Watching!
Edward

PS: Mesa Verde is an amazing place, highly recommend the trip if you are ever in the area. We did not make it early enough to get a toured walking trip into one of the buildings, but would have loved to go. Traveler tip; get there early or book your tour before you get there!
Hamilton Khaki Pilot Pioneer
Summary
The Hamilton Khaki Pilot Pioneer is a great entry level Swiss automatic watch. With a H10 movement which is basically a ETA-2895 that has had its frequency reduced to 3Hz to extend its power reserve to 80 hours, it keeps excellent time and has some pedigree. Personally, the aluminum case makes this watch, it light, has a beautiful finish and comes in interesting colors. I've dropped the score by a half star for issues regarding durability and wear, even though I have not had issues, but I do not wear it daily.