I have a confession to make, I really like inexpensive watches. Let me clarify, there is a difference between inexpensive and cheap. Inexpensive watches have a respectable value equation, eg: you are getting something for your money. Cheap watches on the other hand are just that, cheap and typically not worth what you paid for them. Of course, it all comes down to what you paid for a watch. And yes, I'm always looking for that IWC or Panari on sale for $500.00 bucks.
There are a bunch of great watch brands that offer excellent value for a collector's money. The stand outs for me are Sieko (especially the Prospex Line), Invicta, Reef Tiger, Maranez, Steinhart, G. Gerlach, Orbis Morgan (if you can get one), Zelos and Halios. There are many others that I have not mentioned, and a collector/watch buyers budget should be factored into the equation. Regardless of a person's budget, and regardless of the price of the watch, some are simply better value propositions than others.
This all brings me to the 4th of July this year. We are now in Palisades CO and there is a Stage 1 fire restriction in place, most of the local towns have cancelled their fireworks presentations except Grand Junction 15 minutes down the highway. I was torn, originally I thought I would go with one of my Tritium Illuminated watches, so I could easily see the time before and after the fireworks. But I also know my family and the possibility of surviving a long day of being out and seeing the fireworks was slim. I decided to go with something American, a big gaudy bit of bling, my Invicta 15948 Subaqua Two Tone Chronograph. I must admit it was a toss-up, my Invicta 26319 Grand Scuba Iridescent also would made a good showing for the day. Check out Invicta's Iridescent line.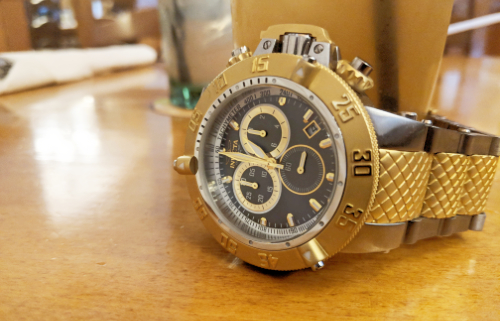 I know there are a lot of people who do not like the Invicta line and have had reliability issues with the brand. Fortunately, I have had no issues with any of my Invicta watches (I currently have 4, but I gave one away to my eldest son, which as far as I know is still working.) I personally like the brand and from a value perspective you get a lot of watch for the money. I paid $183.56 for the 15948, (never pay full price for an Invicta, just wait and watch, they always go on sale) on Amazon.com, which currently has the same watch for $329.99. This is a HUGE watch, it must weight almost a full pound, and sits tall on the wrist, it is short sleeves only or your going to have to roll your long sleeves up.
Invicta is definitely an acquired taste, especially the Subaqua line, the 50mm size is not for everyone and it takes a larger wrist to pull it off. My 7.25" wrist is close to the bottom end of the spectrum for comfortably fitting a 50mm watch and at 18mm tall the watch will often bump into things, so you need to be careful swinging it around. With that being said, this watch gets more comments and compliments than my pricier, more unique and rarer watches. There is something about BIG and GAUDY that gets people's attention, not that this thing is hard to miss!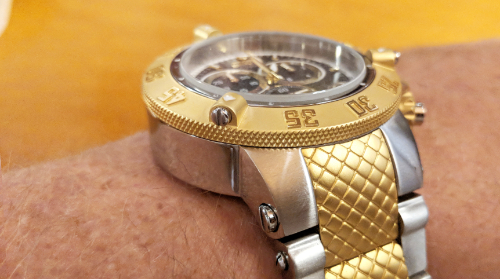 As for the watch itself, the band is a bit on the cheap feeling side but works well with the case and dial of the watch. Its pretty easy to read the dial considering everything that is going on, readability is a major issue for me, especially as my eyes get older and have more trouble focusing on closer objects.
Over all I really like my 15948, it has a solid Swiss quartz movement, a Caliber: G10.211, a sturdy case (understatement intended) with lots for bling and style. I'm pretty sure that at $183 per pound it has the greatest weighted average value of any watch I own.
One of my primary reasons for getting this watch (aside from the price) was that I was looking for a gold and silver watch. I looked at tons of watches from lots of brands but finally decided that if you are going to sport a gold and silver watch, why not go all out and make it some ostentatious, no need for subtlety when putting gold and silver together. Really the only thing this sucker is missing is a few diamonds.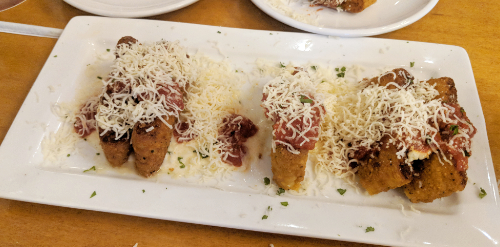 When do you wear a watch like this? Well it worked great for me on the Fourth of July, eating at the local Olive Garden, running errands with light mid-week shopping run. Did we make it to the fireworks display? Nope everyone was in bed by 9:30pm, I didn't even hear any fireworks. Maybe it was carrying this Invicta on my wrist all day that wore me out?
Keep on a Watching!
Edward
Invicta 15948 Subaqua Two Tone Chronograph
Summary
Massive watch, with big value for it's size and weight. Makes an entrance, mostly because it arrives slightly before you. Lots of fun on the right day, but not an everyday wear. Swiss quartz keeps good time and the dial is easy to read given the complexity.