In Scandinavian countries like Denmark and Sweden, there are quite a lot of watch brands to explore and enjoy.
But in neighbouring Norway – the elongated Scandinavian kingdom where fjords, fish, and lusekofte sweaters are plentiful – only a few brands have just recently started to emerge.
The 5 Norwegian watch brands that exist today are:
Hvitsten
Bruvik Time
Brathwait
Cursus Victus
Von Doren
Harper & Brooks
Hvitsten
[Hvitsten Timepieces seems to have closed its operations. If any of you readers have more information about this, please contact us.]
Hvitsten Timepieces was launched in Oslo in 2014 by Håkon-André Blad. Frustrated with the poor number of watch brands in Norway, he decided to start his own, named after the small idyllic Norwegian town of Hvitsten.
After first attempting to get the project off the ground through a campaign at IndieGoGo, four models have since been released, all of them with Swiss Ronda movements:
Hvitsten Aurora, limited edition, 350 pieces.
Hvitsten Aurora special Tommy Østgaard edition, 50 pieces.
Hvitsten North Sea, with a dial in Lapis Lazuli stone (looks cool).
Hvitsten Christiania, made in a trendy rose gold design.
Right now, Hvitsten is working on a new range of models. In the meantime, take a look at the Aurora model: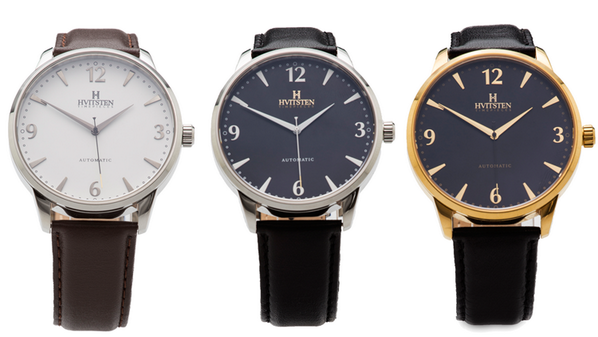 Bruvik Time
Bruvik Time was founded in Haugesund in 2009 by designer Rune Bruvik.
The goal is to combine Swiss watchmaking with Norwegian history and nature to create high-quality timepieces with a distinct and unique design.
There are currently four lines of watches for sale:
Arctic
Svalbard
Fjord
Novelty
For being such a new brand, I'm amazed at how diverse the four models are. Here's Bruvik Fjord:
Brathwait
Even though new start-up Brathwait Inc. is a US-based company, I still consider Brathwait to be a Norwegian watch brand because it was founded in Norway, by Henrik Torp, and he and his team behind it are Norwegians.
Brathwait has so far released two models on the market – Classic Slim Wristwatch and Automatic Minimalist Wristwatch – both with the typical Scandinavian minimalist style. Here they are: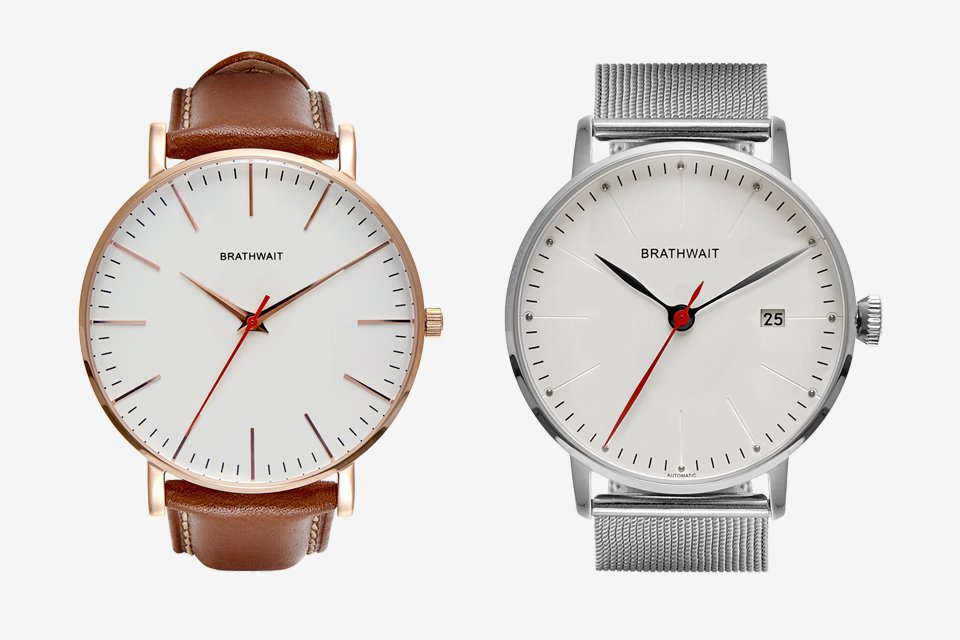 The name Brathwait comes from Richard Brathwait, the world's first gentleman (a.k.a. the inventor of the concept). Now that kind of storytelling and the design of the timepieces reminds me a lot about the competing brand Daniel Wellington.
A thing I like is their openness about pricing and what each different part costs to manufacture. This really helps you to get a sense for what you're buying and if the price is fair.
By cutting out the middle men and only selling from their own web shop, Brathwait has been able to set affordable prices that offer great value for money.
Cursus Victus
Cursus Victus was launched in 2015 by designer Torgeir Sanders. At the time of writing, Cursus Victus (latin for The racing way of life) hasn't produced any watches yet, but is actually an ongoing Kickstarter project.
The CMXI chronograph, which will be the first product, is inspired by classic sports cars from the 1970s, especially Porsche 911. It has a couple of cool features, such as the single large hand and the perforated leather strap.
Price on Kickstarter is around $270.
Take a look, and see what you think:
Von Doren
Von Doren is another interesting Kickstarter campaign launched by a creative Norwegian.
Inspired by the scenery and architecture of his hometown of Aalesund, filmmaker and entrepreneur Øyvind Von Doren Asbjørnsen has pursued his longtime dream to design his own wristwatch.
There are currently five collections: Aksla, Grandmaster Automatic, Jotunheim Lady, Marius Nakken, and Grandmaster Mark II.
However, the very first collection – simply named Von Doren – is no longer available. It had an elegant minimalist style, and was produced in four different color variations that all came with sapphire crystal and Swiss Ronda movements. Price was around $250.
If you're interested you can get more information on the Kickstarter campaign webpage.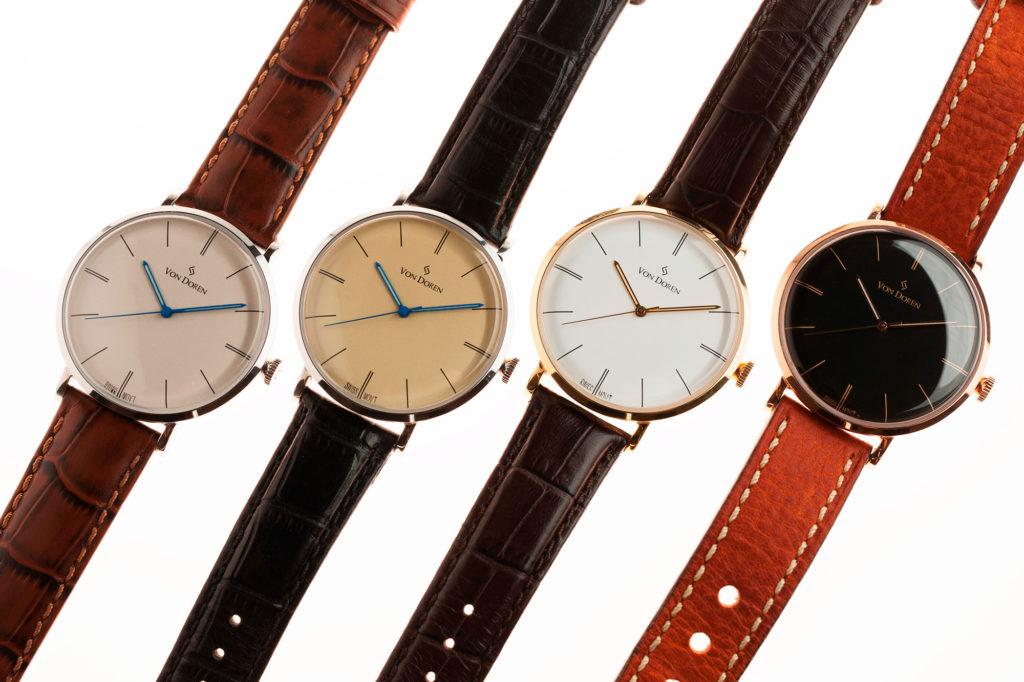 I'd like to thank David Nicholson for pointing out our omission of Harper & Brooks. From the Harper & Brooks website…
"Our founder Ole Øivind Skaar had recently left his job as a financial consultant in Oslo and was searching for something meaningful. A trip to the family farm in the mountains of central Norway changed everything.
A dusty safe stowed away in a corner contained all kinds of trinkets, dusty documents and best of all – a pocket watch. After winding it up he was surprised to see it was still working after all these years.
While evaluating alternative paths to follow, an idea was formed – to create modern timepieces inspired by the time when things were meant to last – and Harper & Brooks was born."
Theses minimalist watches follow the Scandinavian design philosophy with clean lines and simple elegant dials. My favorite of these quartz watches is the 40mm ULL | HVIT. I just love the wool straps!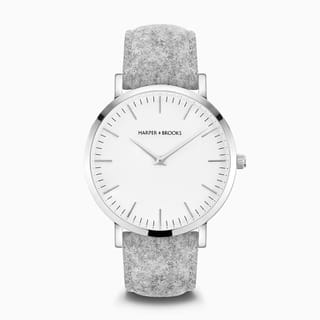 Thanks David for the Update!
Keep watching…