When I was just starting my adventures with watch collecting I had a remodeling company. One of the first watches that I really searched and hunted for was a watch that I could wear on the job-site. I wanted something tough and reliable and maintenance free. Originally, I was looking for an automatic or manual watch, something in the tool diver category. But then I came across the Casio G-Shock line of watches, and the then newly released Mudman.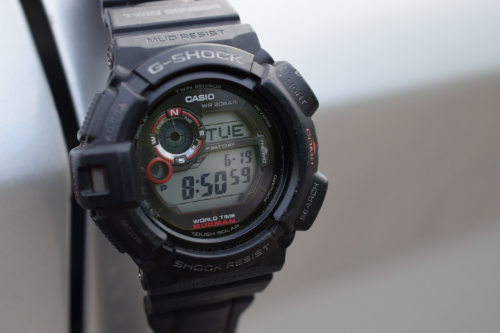 When I first found the Mudman I was not terribly enamored with the digital watch face. But after some consideration I realized that on a job-site I really wanted something easy and quick to read. So, I pulled the trigger and ordered the Mudman off of Amazon for $223.00 (the watch is still on Amazon for $130.38) in August of 2012.
Over the next 2-3 years I wore this watch almost every day, in fact whenever I need to do a "dirty job" this is the watch that I reached for. Over the course of the final years of my remodeling and real estate career I did everything from pouring concrete, to painting, to carpentry, to metal work and the Mudman did them all with me.
Thinking back at some of the awful things that happened to the Mudman, I find it amazing that this watch is still working and looking as good as it does. This watch has been caked with concrete, mortar, and stucco on many occasions, both wet and dry that had to be chipped off. Its been covered in paint, from splatter to full immersion. It has been hit with a hammer or other tool, repeatedly, many times. It has been coated with sweat, saw dust, dirt, mud, rust, oil, diesel fuel, sewage, insulation, glue, and all manner of cleaning products. You name it this watch has seen it.
On several occasions I lost this watch and each time I ultimately found it in one of my tool boxes. The fact that it survived in the bottom of a 50-80 pound tool box on multiple occasions should earn this watch a place in the record books.
One of the reasons I believe this watch still looks as good as it does is that I kept it clean and took decent care of it during the hard years it was on duty. Aside from taking a shower with me at the end of particularly dirty days, I also developed my own technique for keeping it clean and presentable. Every few weeks it would undergo a though cleaning and polishing with automotive grade interior products.
I found that a thorough cleaning with soap and water, then a seriously good scrubbing with a tooth brush and an automotive interior detailing cleaner really did the trick. I have been a fan of Meguiar's car products for a long time and I can vouch that they worked great on my G-Shock. If you are going to try another brand I would suggest that you test it on an inconspicuous place on the back of the watch first. Also, a very little bit of Armor All as a finish coat gives the Mudman a nice little shine when gone.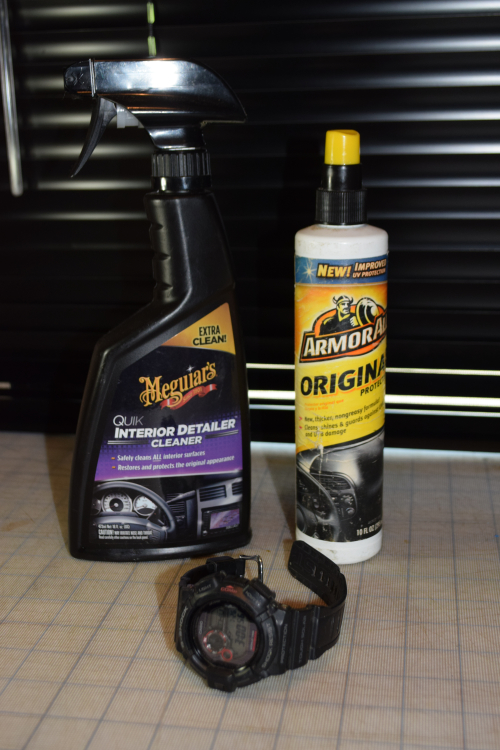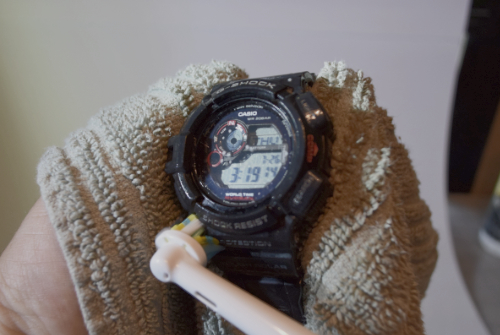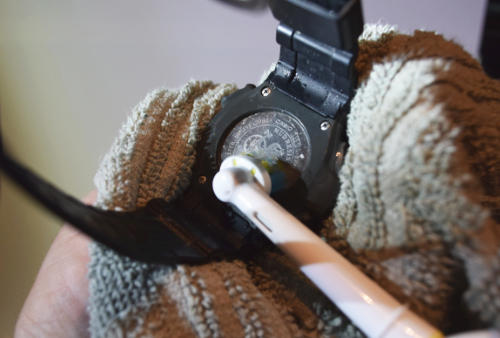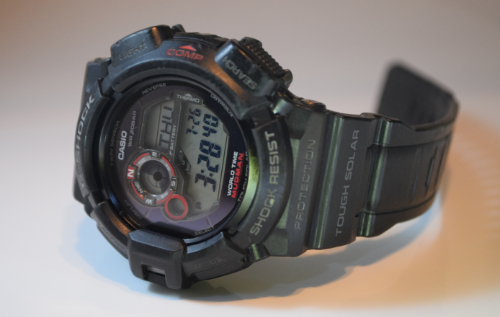 I love my Mudman, but it doesn't get the wrist time that it used to now that we are living on the road and I'm semi-retired. But every now and then a project comes along and its my go-to watch. Recently we had a spring mounting bracket shear off on the third axle of the RV. The Mudman and I spent two days under the RV, grinding steel, drilling holes in ¼" steel, taking tires on and off, getting seriously dirty. It was like spending time with and old friend you haven't seen for a while.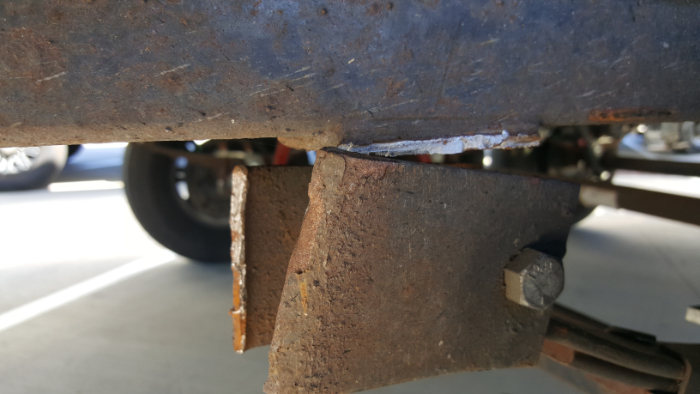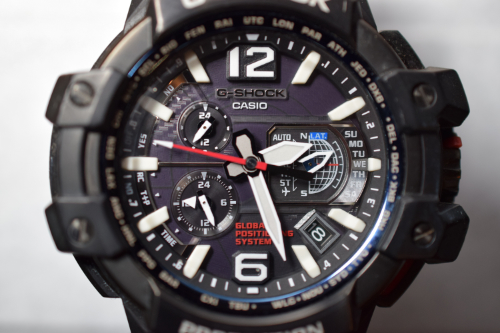 I've since added a couple of new G-Shocks to my collection a Master of G GPW1000-1A for the analog GPS option (post here) and very recently a Japanese market Gulfmaster GWN-1000H-9A in bright yellow (from ShoppinginJapan.net). I'll be posting about the Gulfmaster very soon, as soon as I can figure out all the things it can do. Post is up and you can find it here. Both of my new G-Shocks are more for show than go, but I think I'm going to have to start introducing them to the harsher side of my life. I wonder which one I'm going to ware when I take the toilet apart tomorrow and replace the leaking seal?
Keep on a Watching!
Edward
Casio G-Shock
G-Shock Mudman
Every watch collector should own at least one G-Shock/Casio watch. They are great time pieces with unique feature sets. Some of the features are questionable in their accuracy, such as Temperature readings (have never had a watch that gave the correct temperature while wearing it), but their ruggedness and dependability are second to none. The only downside of many watches in the G-Shock line are their size and bulk, usually this is not a problem if they are used as intended, but I don't see them as an everyday watch, even though I know plenty of guys that do. For me the G-Shocks are at the extreme end of the tool watch category, these are tools you ware when you need a rugged, tough, who cares what happens to it watch, that takes what ever you through at it and asks for more.