The trend is clear. Large wristwatches are really popular right now.
But even good things can go too far. Take a look at the 7 largest watches in the world, and you'll know what I mean.
Let's start with smallest one first, and then move up by size.
7. Zlatoust 192-ChS
This 60 mm beast of a watch was first manufactured from the late 1950s to the mid-1970s by the Zlatoust Watch Factory in the Soviet Union.
It was originally called Zlatoust 191-Chs, and was made for hardened Soviet Navy divers. You can see a 191-Chs on the left arm of the diver in the front.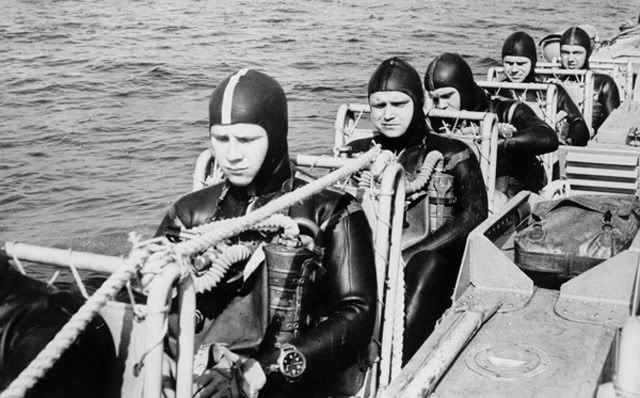 The 191-Chs was never intended to be worn straight on the wrist. Instead, it was designed to be worn over the diving suit. The watch face had to be large enough so that the diver could keep track of time, even when wearing a diving helmet.
To make visibility even better, a radioactive radium salt was used to make luminescent dial markers. Radioactive radium could have a harmful effect on the human body, and that's why we nowadays use tritium technology instead.
Because production stopped in the 70s, these watches are very hard to come by. But thankfully, the Zlatoust Watch Factory has now reissued the watch as Zlatoust 192-Chs.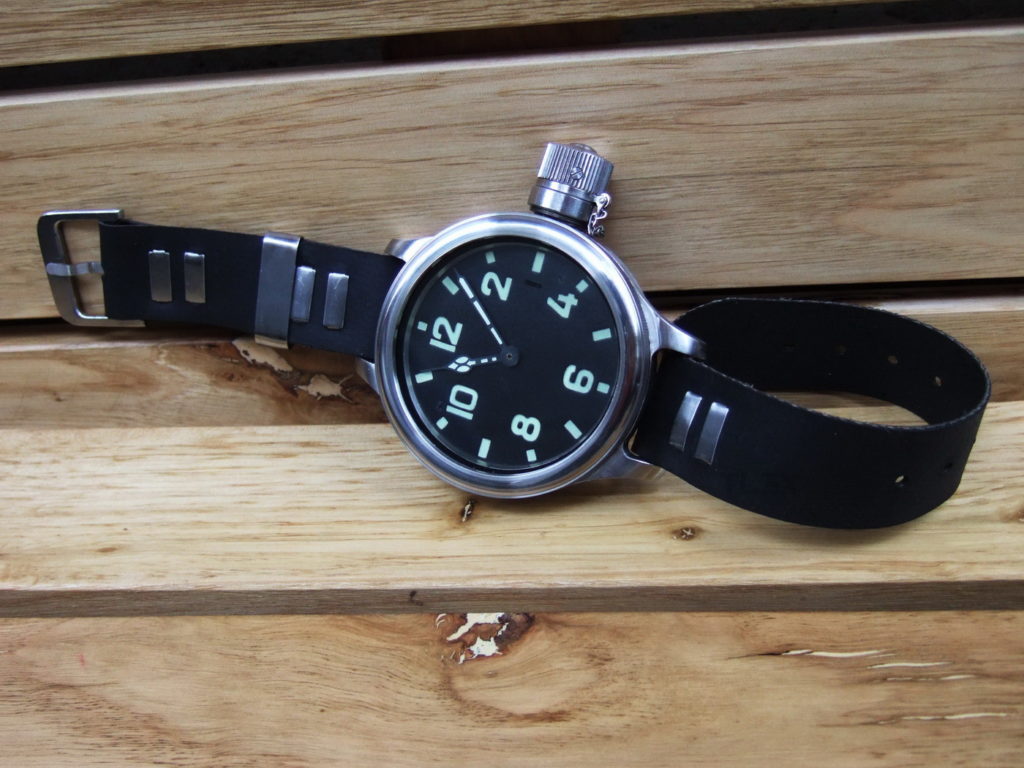 This updated version has been equipped with a better movement and a luminous material that is harmless. But apart from that, it's basically the same watch as the original. Very cool!
With a case diameter of 60 mm (excluding the huge crown protector), and a weight of 260g, this large diving instrument is the epitome of manliness.
You can read more about Zlatoust diving watches and their history right here.
6. Invicta 80188 Grand Arsenal Reserve
Invicta Watch Group was founded in Switzerland in 1837 by Raphael Picard. Originally a Swiss watch brand, Invicta was sold to a US based company in 1991, and so became an American brand.
In recent years, Invicta has started to make a range of very large timepieces. The largest of them all – measuring an impressive 63 mm in case diameter – is the Invicta Grand Arsenal Reserve.
With its 14mm thick case and watch band made from stainless steel, it's no wonder this thing weighs 1 lb. It is massive.
The Grand Arsenal Reserve is the only watch on the list that's currently available for purchase at Amazon.com. Click the image to read more.
5. U-Boat U-1942
Based in the town of Lucca, U-Boat is an Italian watch brand that makes retro-looking luxury timepieces for the rich and famous.
The U-Boat U-1942 is a limited edition diving watch (only 29 pieces) that's supposedly based on a WW2 design – commissioned by the Italian Navy – that never saw production.
It has a darkened titanium case, a Swiss movement, and is water resistant to 400 m.
But perhaps the most characteristic feature of the U-Boat U-1942 is its long retractable crown (which you can see on the left side). A very odd detail.
With a case diameter of a whopping 64.4 mm (and a thickness of 18 mm), the U-Boat U-1942 shouldn't be too small for anyones wrist. Not even to the former governor and Terminator Arnold Scharzenegger's manly wrists: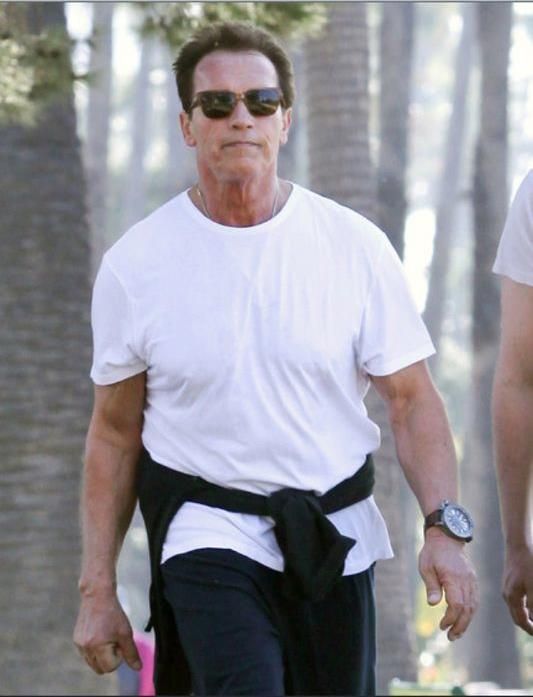 4. Nordschleife 20832 SUPER PLUS watch
The Nordschleife 20832 SUPER PLUS watch has a 12 mm thick stainless steel case with a diameter of 65 mm. It "only" weighs 150g, which is far less than the six other monstrosities on the list.
It is made in Germany, and the name comes from the Nordschleife racetrack (called Green Hell), which is part of the famous Nürburgring motorsports complex. The number 20832 is the length of the racetrack.
The Nordschleife 20832 SUPER PLUS is available in two editions; The regular edition that has a black watch face, and the "Green Hell Edition" which has a green watch face.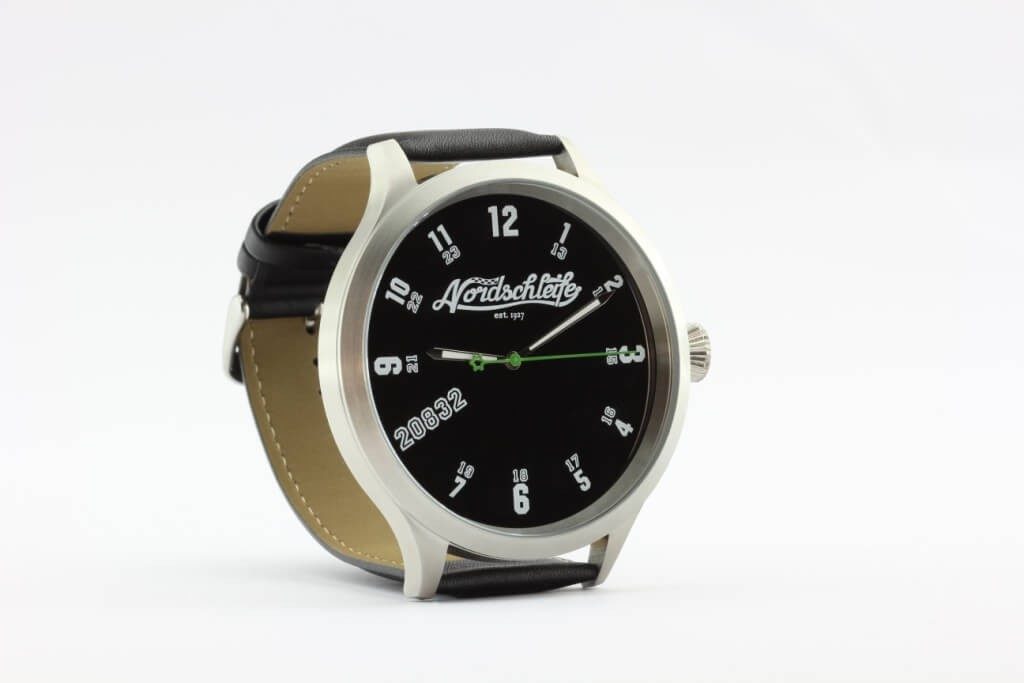 If you're thinking about doing some deep sea diving with this colossus on your arm, think again. It's only water resistant to 5 atm.
Unlike the cars that race on the Nordschleife track, I think the 20832 SUPER PLUS is more for show than performance. There are better watches you could buy.
3. Ennebi 5218-MM Titanic Black
The Ennebi 5218-MM Titanic Black is yet another Italian diving watch.
The special thing about this one is that it was commissioned by an English watch collector. After being designed by Alessandro Bettarini, Ennebi was so happy with it that they decided to manufacture 89 pieces of it.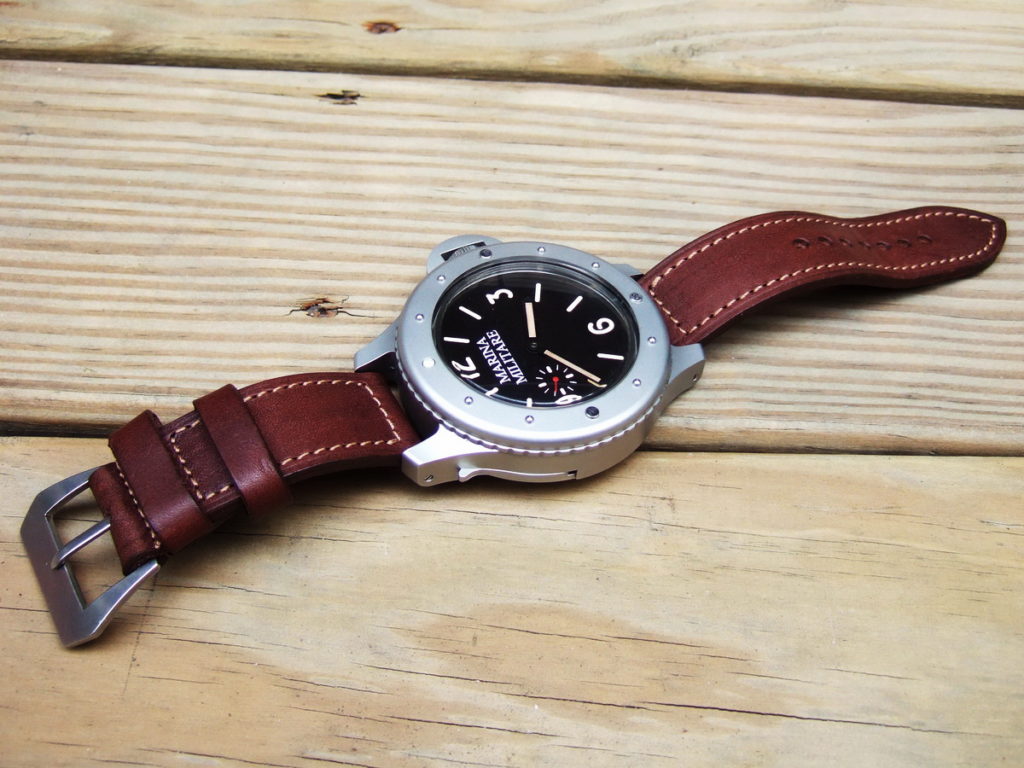 So, what about size?
Excluding the crown, the stainless steel case is 65 mm in diameter and 22.5 mm thick. This watch is BIG!
It comes with two leather straps and it's water resistant to 300 m. And the price? Well, not much. Only $11800.
2. Diesel Grand Daddy DZ7262
Made by the Italian clothing company Diesel, the Grand Daddy DZ7262 is just ridiculously large.
It has a black ion-plated steel case that is 66 mm in diameter (excluding the crown) and 15 mm thick. The thing weighs 490g.
This watch is so big that Diesel decided to include not one, but four chronographs! It comes with a leather strap, and has a Swiss quartz movement.
Just like the Nordschleife watch, the Grand Daddy is not built for diving (or even swimming), because it's only water resistant to 3 atm.
To better show you what the limited edition Grand Daddy looks like (they only made 1000 pieces), here's a promotional video from Diesel:
1. MUSK MR2129
Ok, it's time to reveal the winner. The largest watch in the world.
With a 90 mm case, and a weight of 715 g, it's the MUSK MR2129!
When it was released in 2006 by Japanese watch brand MUSK, people in the industry must have laughed. No other wristwatch comes even close to this insanely large wristwatch. It is absolutely MASSIVE (and probably unwearable).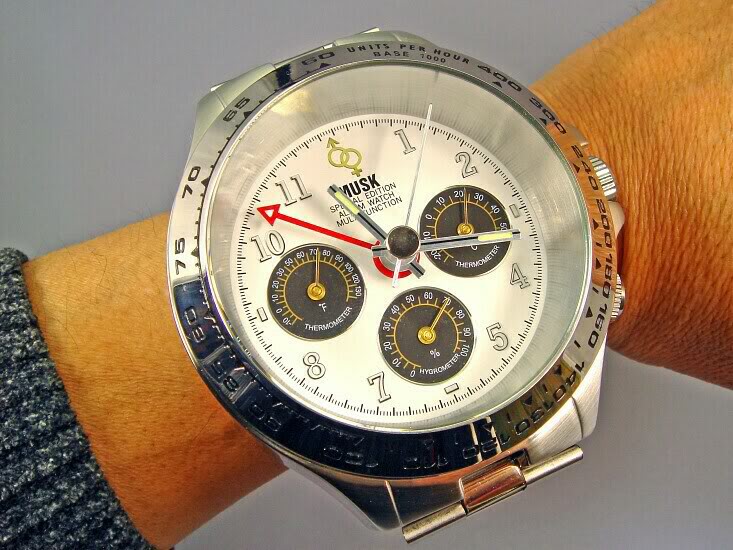 Apart from telling the time, it's equipped with two thermometers (one in Fahrenheit and one in Celsius), and a hygrometer that measures the moisture content in the air.
This thing is so big I think I would break my arm if I tried to wear it. Along with looking like a clown.
I hereby declare the MUSK MR2129 the most uncool and tasteless timepiece ever produced.