Delicious food, incredible gelato, fashionable clothing, and beautiful watches. What's not to like about Italy?
But with Italy's reputation of putting form over function, you may think their timepieces are all looks and poor quality. Well, think again.
There are several luxury watchmakers that are on par with what you can find in both Switzerland and Germany.
Yep, that's right. With more than a hundred Italian watch brands on the market, there are plenty of stylish high-quality timepieces to choose from. Just take a look at our top-10 list for men!
When competing watch brand Panerai was sold and moved to Switzerland in 1997, Federico Massacesi ceased the opportunity and purchased their manufacturing facilities. After convincing a group of Panerai watchmakers to stay in Florence, Tuscany, and work for him, Anonimo was born.
Signor Massacesi wanted to focus entirely on quality and not think so much on branding, and that's why Anonimo (anonymous in english) was such a fitting name.
After a buyout and a move to Switzerland in 2013 (ok, technically they are no longer an Italian watch company), Anonimo has reduced its number of models and they are now selling three collections; Militare, Nautilo, and limited editions.
All three collections consist of handcrafted high-quality watches with self-winding mechanical movements. They are designed for military use and deep sea diving.
To give you an idea what they look like. Here's Anonimo 2017 Crono Militare:
Also based in Tuscany (in the small town of Lucca), U-Boat makes Italian luxury watches as well.
U-Boat was founded by Italo Fontana, with a dream of materializing his grandfather Ilvo Fontana's sketches and designs from the 1940s. The fact that Italo is a watch aficionado with a desire to experiment with both materials and unusual techniques (i.e. acid baths) has really set U-Boat apart from other brands.
Features you could expect are large watch faces, Swiss movements, and vintage navy pilot designs.
His watches are getting more and more attention, even from outside the world of horology enthusiasts. Celebrities like Tom Cruise and David Beckham wear timepieces from U-Boat. You can safely say that Italo Fontana's dream has come true.
If you have thin wrists, U-Boat Chimera 48mm is probably not for you: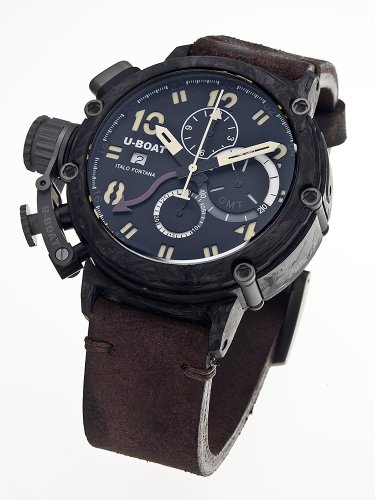 For Roberto Bianci, the path to successful watchmaking started early in life. Through his childhood and teenage years, he learned everything he could about jewelry from his father. When he was 20 years old, he graduated from a Gemology Institute as a certified gemologist.
Then it was time for timekeeping. Roberto Bianci launched his company 20 years ago, and things have gone well. By making affordable watches for the masses (cheapest models around $100), without compromising on quality, huge amounts of watches have been sold.
The successful strategy consists of three parts:
Swiss movements.
Italian design.
Cheap prices.
They sell both men's and ladies timepieces, as well as some unisex models. Here's Roberto Bianci Unisex Black Ceramic Watch: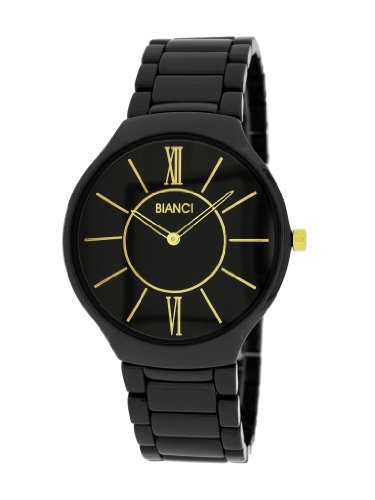 Founded in Rome in 1884 by immigrant Greek watchmaker Sotirios Voulgaris, Bulgari has become world famous for their luxury goods.
Yes it's true they make jewelry, fragrances, and handbags. But they are also focused on making expensive luxury watches for both men and women. Their Swiss subsidiary Bulgari Haute Horlogerie SA manufactures everything from the ground up to a very high spec.
Bulgari currently has four collections for men; Octo, Bulgari Bulgari, Diagono, and Haute Horlogerie. They are simple analog display timepieces, only showing date and time, but yet oozing with character and elegance.
For example, take a look at Bulgari Octo Automatic 38mm: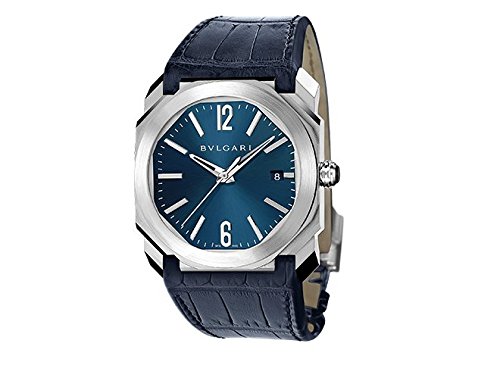 Being one of the youngest brands on this list, watch collector Tommasso Buti started TB Buti in 2001 (in Florence of course).
TB Buti makes handcrafted sophisticated timepieces that caters to the rich and famous. Eleven collections are currently in production, all being expensive automatic chronographs.
The hardcore horologist would probably say that TB Buti is all fashion and branding, and not focused on traditional high-end watchmaking.
You can judge for yourself, here's Buti Magnum Rattrapante: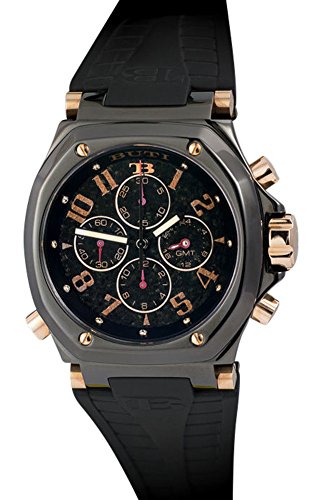 Brothers Roberto and Giorgio Emili launched Officina del Tempo at the turn of the millennium in their hometown of Senigallia.
Inspired by racing, sailing, and big business, Officina del Tempo can now boast of having eleven collections in their impressive lineup. The two brothers have really expanded operations quickly.
What I personally like about this brand is that they have made quality their number one priority. They put a lot of effort into every little detail, from assembling to packaging. Apart from the movements, everything else is made in Italy.
Here you have some Officina del Tempo timepieces to check out.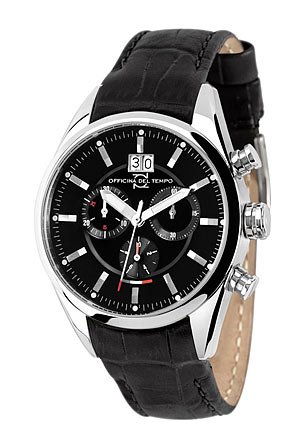 Meccaniche Veloci was started in 2006 in Vicenza by a group of creative designers. With a modern, refreshing, and very different design, they have brought motorsport into the world of wristwatches. Motorsport? Yes!
Meccaniche Veloci loosely translates to Fast Machines, and the most popular collection (Quattro Valvole) looks like the pistons of a car engine. They also like to incorporate materials used in racing into their timepieces. I think you get the idea…
Technically speaking, MV isn't 100% Italian though. The watches are made in Switzerland, but designed and marketed in Italy. I chose to include MV to my list anyway, because their watches are so interesting, beautiful, and fun to look at.
Just to give you an example: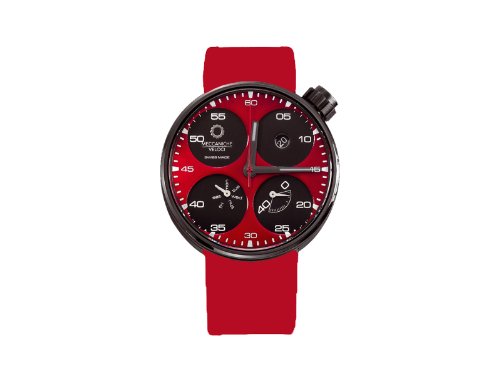 Italian fashion icon, Gucci, was established by Guccio Gucci in Florence in 1921. With more than €4 billion in revenues in 2008, Gucci is a whale in the fashion industry. Not surprisingly, they are also in the market of making watches.
With prices at a few hundred dollars, Gucci's timepieces are cheaper than some of the other brands on this top-10 list. And maybe that's just right. You get a cool-looking watch, absolutely, but you don't get the handcrafted super-quality pieces that some of the others have to offer.
Here's a nice one:
Salvatore Ferragamo is yet another luxury goods company from Florence, established in 1928 by – you guessed it! – Salvatore Ferragamo.
Since Salvatore Ferragamo makes a whole range of different consumer products, they can't be watchmaking specialists. In fact, they use licensing agreements and partnerships to have other companies manufacture the watches for them.
But apart from not having the manufacturing process in-house, they make beautiful and interesting timepieces.
I'm seriously considering buying this attractive sport watch with canvas strap: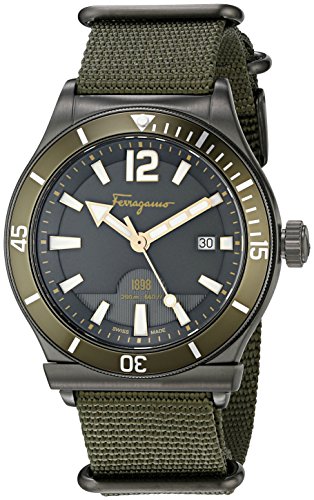 Breil is a luxury goods company (surprise!) that among other things also makes watches. It was founded in Milan in 1939 by Innocente Binda, and it's still in the family (owned by the Binda Group).
The very first wristwatch was introduced in 1942, and they now sell more than a hundred different models, just for men.
In my opinion, Breil is more about appearance and branding, and less about craftsmanship and watchmaking traditions.
I can't think of a better way to end this list of the top-10 Italian watch brands for men, than with Breil Milano Men's Italy Chronograph Watch. You can't get a more Italian-looking watch than this! 🙂