What watch do you wear to Red Rock Canyon, outside of Las Vegas? Something red seemed like the way to go, and of course I had the perfect watch, the Maranez Bangla 44 in Brass with a Brecciated Jasper Stone Dial.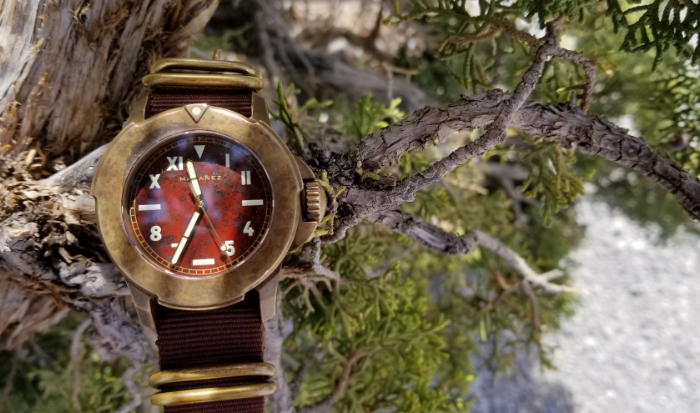 I must admit I have a soft spot for Maranez watches, there is something about the big cases, simple dials, solid Seiko movements (NH35) at reasonable prices that just work for me. I Currently have 3 of them and I always enjoy them when I wear them. They are all in Brass and are awesome beater watches that totally work with my typical casual attire, especially with my cowboy boots. I would love to get my hands on one of the titanium Bangla in the 47mm size to try something a little different. Also, this year (2019) I want to do a feature on forced patinas with brass and bronze watches that the Maranez watches will be a part of.
We spent the month of November 2018 in Las Vegas Nevada and several people told us to check out Red Rock Canyon National Park. I immediately thought of my Bangla, it looked and felt totally at home in the parks rugged and rough terrain. The park is basically a loop drive up into the canyon, very similar to the Petrified Forest National Park in eastern Arizona. The whole loop is about 15 miles and only takes an hour or so with several stops for pictures etc. There are also several places to hike but we did not have the time to go for an extended hike, something I wish we had done.

I had the Bangla on a 24mm brown NATO with brass/bronze hardware. I really like wearing this watch on a NATO, the spring bars sit down low on the lugs, so the strap wears close and comfortable on the wrist, even though the watch is tall and bulky. This is not a watch to wear with a close-fitting cuffed shirt. The Jasper dial looked like it came from the Red Rock area, even though the stone is not found there. Like my Maranez Layan that I wore to the Grand Canyon (post here) the star here is the dial, the brecciated Jasper is truly beautiful, and the California dial markings gives it an old world quality that work well together.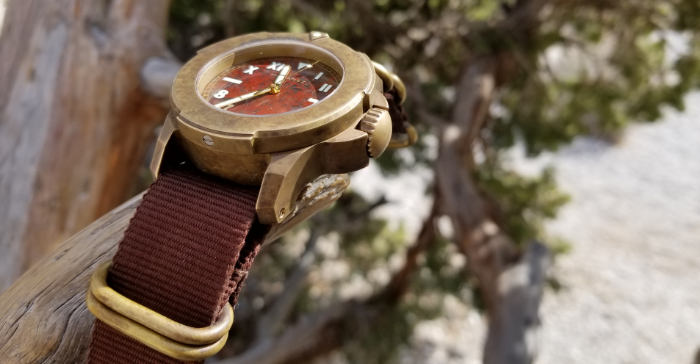 The patina on the Bangla is totally natural, I have not done anything to it since I received it back in 2017. I really like the way the patina is uneven on the large bezel. I have no idea why it is that way, but I did notice that after swimming in the ocean with it several times the patina became more pronounced. I figure the salt and the way it dried might have had something to do with it.
If there was anything, I don't like about the Bangla is the size and weight. It is a BIG watch that requires the right time and situation to wear. Its not the kind of watch you would wear to a board meeting. It's a great adventuring watch that belongs in the outdoors or in a dive bar, or better yet when you're riding your Indian Scout Sixty motorcycle decked out in Rudy Metallic paint!
Keep on a Watching!
Edward
Maranez Bangla 44 in Brass
Summary
Great big tank of a watch. Nice brass case, awesome dial with great lume. Very cool watch that in the right setting really shines. Looses some points for its size and the lower grade Seiko movement. But at $349.00 it's a great deal.  Maranez has regular sales with all their watches being 20% off, so for around $290.00 with shipping you can get a great watch that tough, totally manly, gets more interesting over time, is fairly accurate and looks really cool doing it. What's not to like.