I'm always looking for a good deal on a watch. Sometimes those deals come from unexpected areas. I was shopping with my mother at Costco when I decided to check out their watch selection when I found a Glycine Combat Sub 48 (GL0190) on a calf leather/carbon fiber band for less than $300.00.For reference the GL0095 on stainless is $600.00 on Amazon, and they seem to be ranging from about $450 to over a $1000 on Chrono 24. I have seen some on ebay in the $299 – $399 range.
I was not in the market for this watch but with a deal like this I couldn't say no. With a respectable stainless steel PVD coating, decent swiss movement, triple anti reflective coated sapphire crystal, screw down crown and 200 meters of water resistance, it was quite a bargain.  This is no dive watch, but it makes for a great sport watch and has a nice tactical look and feel to it, especially with the off-white dial and beige/sand colored numerals. I was a bit concerned that the 48mm diameter would hinder the wear-ability of the watch but its super slim profile of 11.30mm lets it sit close and comfortable to the wrist.
The only downsides of this watch are the lume is on the weak side (nothing like Seiko's LumiBrite) and the strap was not very comfortable and even squeaked when worn. The upside is that at less than $300.00 I was able to go nuts with new straps. My personal favorite for this watch is my NATO's in off-white and tan colors. I also picked up a red leather this accentuates the red second hand.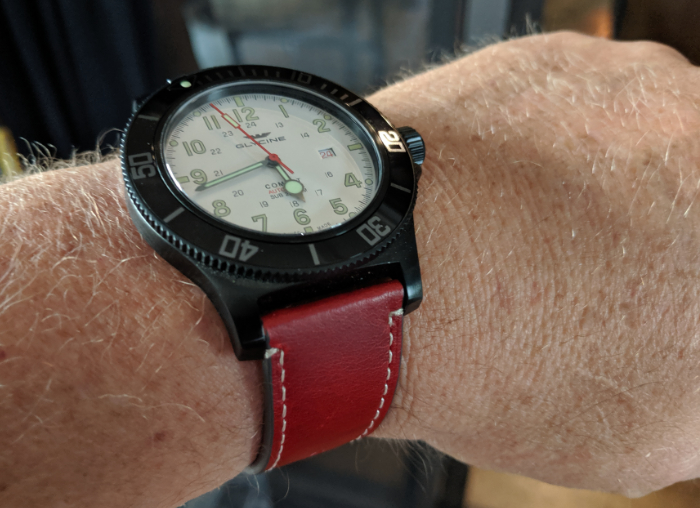 This is not one of my "loves" but it gets regular wrist time and I always enjoy it when I wear it. I especially like the fact that I got a great Swiss watch and a bunch of extra bands for around the entry price of a Seiko Prospex, what's not to like about that.
Keep on Watching!
Edward
Glycine Combat Sub 48 (GL0190)
Summary
The rating is based on the watches $1,000 plus price. At what I paid it is a 5-star, easy! I must admit that I have a soft spot for tactical stuff, and this watch has a great desert combat look and feel. The watch really shines on a NATO strap. If you can fine yourself a Glycine Combat under $400 dollars, I highly recommend picking one up. I currently have my eye out for one in bronze! Next time I'm back in Virginia I am hitting the Costco with Mom again.