I'm a trained designer with a BFA in Industrial Design from the Columbus Collage of Art and Design, a school that fashioned itself after the Bauhaus Design School in Germany. As a watch guy, I thought it fitting that I should own a watch that was designed at the Famous Bauhaus.
As usual, I by searching the web for an "authentic Bauhaus" watch. But I have been unable to find a watch that was designed at the Bauhaus. That does not mean they do not exist, I do not know, but I have been unable to find anything. If anyone knows of an actual watch that was designed at the school, PLEASE let me know in the comments below.
I did however find a company called Sternglas who designed there watch "…according to Bauhaus schematics with high-quality sapphire glass." I don't know if these schematics are actual designs from the school or just there interpretation of the schools design philosophies. But for under 200 euros you can get a pretty good looking Bauhaus style type watch, with a quartz movement. I personally like the black faced dial on the Milanese strap.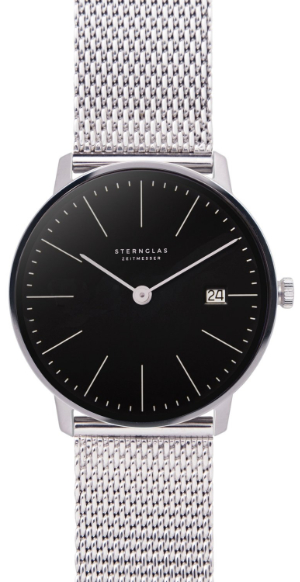 I have of course found lots of watches that were "inspired" by the Bauhaus design aesthetics. There are tons of lists on all the watch blogs about Bauhaus inspired watches and watch brands. So, the question begs which is the "most" authentic of all the Bauhaus inspired designs.
I thought I would start with German watch companies that existed during the schools 14 years existence (1919 – 1933) or shortly thereafter. One of the most appropriate and closest time wise and location wise would be Stowa who started producing the Antea line starting in 1937, which was directly inspired by the Bauhaus movement. They have a great history section on their website, here.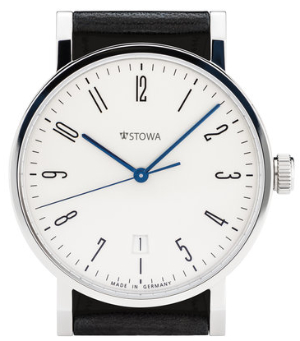 I think as far as contemporary watches go no manufacture has picked up the Bauhaus mantle like Nomos Glashutte in Saxony Germany. Their entire line, especially the early pieces designed by Susanne Gunther, are very heavily influenced by the clean functional design language of the Bauhaus. I have a serious soft spot for the Orion Neomatik 41 Date and the new Autobahn Neomatik 41 date. Along with their Clean design language Nomos' creates all their own movements in-house, both manual and automatic.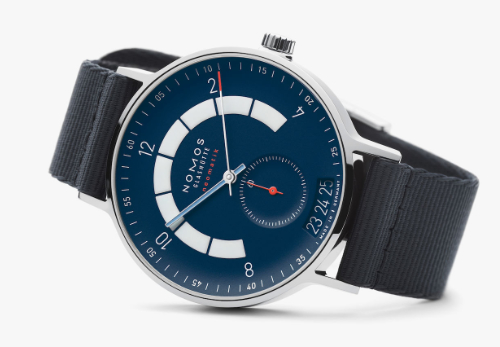 After pursuing brands that where "on the scene" or that have taken the Bauhaus design language to heart, I started researching designers that were in the school and later designed watches professionally. The one that is most prevalent is Max Bill who attended the Bauhaus from 1927-1929 when the school was in Dessau. Bills teachers included Wassily Kandinsky and Paul Klee among others. His designs for the brand Junghans are wonderfully simple and elegant. The brand goes back to the 1860's but the work done with Bill in the mid 1950's really made the brand what it is today.
Definitely one's of my favorites from the Jungshans line is the Max Bill Chronoscope in Black. Just a wonderful elegant timeless watch.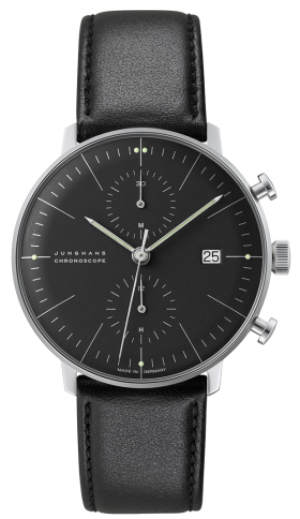 Another watch brand that isn't designed by a Bauhuas designer but that is heavily influenced by the school is Dufa a German watch company that names its watches after prominent Bauhaus professors. From the Gropius 7001 (after Walter Gropius) to the Van Der Rohe Chrono 9002 (after Meis Van Der Rohe) all their lines are Bauhaus inspired. I personally like the AALITO Automatic DF-9024-02 in blue.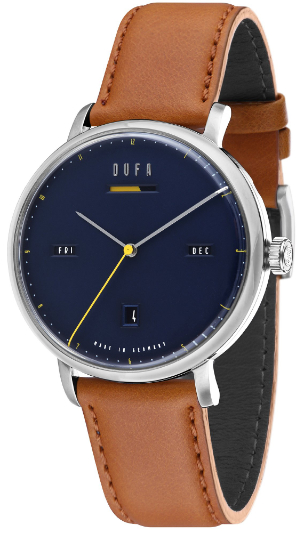 There are literally dozens of other brands that ape the Bauhaus style. From Skagen's Scandinavian minimalist sensibility to Christopher Wards Malvern series the Bauhaus design style has come to embody the look and feel of a spartan, minimalistic, utilitarian watch.
My German mother always says if you want to be fashionable and in style you should always go "plain, simple and tasteless," or in German its "plain, simple and elegant," with the point being that good taste is only discernable at a second glance. With that in mind I believe that Bauhaus inspired watches will always stay in style.
Keep on a Watching!
Edward